February 18, 2018
Things are heating up for Jamaica's women bobsledders at the Winter Olympics in Pyeongchang, South Korea.
Kiriasis is now threatening to take the team's bobsled that she rented for the games, reports the BBC. The sled threat may jeopardize Russell and Fenlator-Victorian's shot at becoming the Caribbean island's first Olympic female bobsledders.
Kiriasis resigned Wednesday after the Jamaica Bobsleigh and Skeleton Federation told her "out of the blue" that it had changed her position from driver coach to track and performance analyst, she wrote on Facebook.
"(I) would have to leave the Olympic village, would lose my accreditation as part of the Jamaican team and was not supposed to have any more contact with the athletes," she said.
Kiriasis, 43, said she'd "supported the team far beyond the call of duty at all times" by securing sponsorship, equipment and the rented bobsled ― but she could not "accept to be treated the way I have been treated."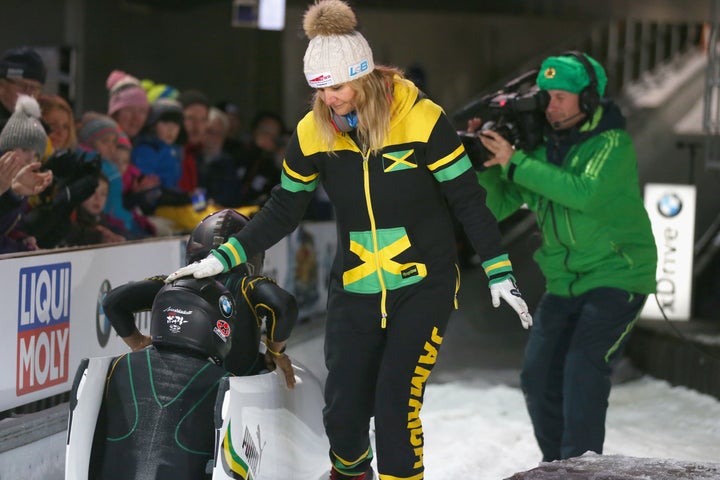 "I still do not know the reasons behind the decision of Jamaican Bobsleigh Federation and certainly will not allow to be used as the puppet on a string by the federation which have also saved a lot of money due to my commitment and contacts," she added.
The Jamaica Bobsleigh and Skeleton Federation initially thanked Kiriasis on Twitter "for her invaluable contribution" to the team:
But the federation's president, Christian Stokes, later escalated tensions by describing Kiriasis as "a destructive force on the team."
"Now that she is off the team synergy is much better, tension is down and athletes are now able to focus in a much healthier environment," Stokes told Reuters. "If you come on the team you have to be a team player. There are no gods and goddesses here," he added.
Training for the women's bobsleigh event in South Korea begins Saturday. The opening heats begin on Tuesday.
Team coach Dudley "Tal" Stokes — a member of Jamaica's famous men's bobsled team at the 1988 Winter Olympics in Calgary, Canada, which inspired the hit movie "Cool Runnings" ― insisted that Fenlator-Victorian and Russell would still compete in Pyeongchang.
"What I can say is that we don't expect there to be any changes in equipment going into the games," Stokes added. "In the unlikely event that we do have a problem what I can guarantee is that on race day we're going to be at the start with very competitive equipment and those girls will be ready to go."
Read more: http://www.huffingtonpost.com/entry/jamaican-bobsleigh-coach-quits-sled_us_5a8559f2e4b0774f31d232bf