November 30, 2017
Bitcoin entered uncharted territory on Wednesday after breaching $10,000 for the first time, leaving investors to wonder how long the rally will go — and whether it will end in tears.
The digital currency climbed as much as 4.4 percent to a record $10,379.53 during Asia trading hours, capping a more than 10-fold increase this year. Its market value has surpassed $176 billion, according to Coinmarketap.com.
Here's what bitcoin watchers are saying about the dizzying rally.
Arthur Hayes at BitMEX
"They said it was a bubble at $1,000, they said it was a bubble at $5,000 and they said it was a bubble at $10,000," said Hayes, chief executive officer and co-founder of Hong Kong-based BitMEX, a cryptocurrency derivatives venue. "Shorting anything is a very dangerous game, especially if you're shorting into a transformational monetary system. These transformational experiences happen once every few hundred years and are extremely chaotic."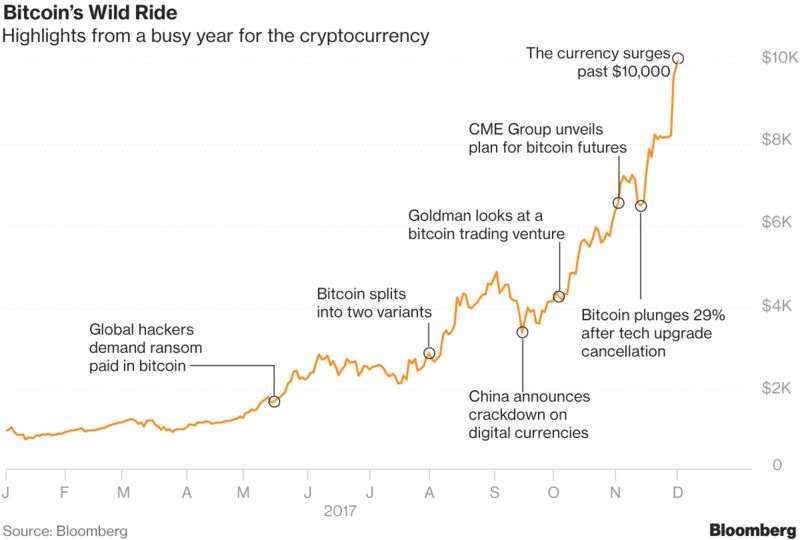 Hayes, who was speaking on the phone from New York after attending the Consensus: Invest cryptocurrency conference, said he saw more people wearing suits than jeans and hoodies — a sign of growing interest on Wall Street.
"The fear of missing out is becoming stronger and stronger," he said. "The traditional asset manager or investor, banker who has probably poo-pooed bitcoin the past few years is now paying upwards of thousands of dollars to hear about how they can get involved in this new industry."
Hayes said bitcoin may reach $50,000 by the end of 2018.
Stephen Innes at Oanda
"I'd be a little bit worried on a falling knife scenario," said Innes, head of trading for Asia-Pacific at Oanda Corp. in Singapore. "Are current investors prepared for this? No, of course not."
Longer term, cryptocurrencies will gain more credibility as CME Group Inc. starts selling bitcoin futures and other mainstream institutions get involved, Innes said. For now, he sees a short-term pullback of 3 percent to 6 percent as investors take stock of how much they've gained.
"When we're starting to get into these crazy numbers, I'm a little bit fearful that retail traders are jumping in under the false guise of this will run on forever," he said. "We know things never go in a straight line."
Jehan Chu at Kenetic Capital
"If you look at the kind of trajectory not just of the currency and the price, but really of the mind share among influencers, among governments, among central banks, among enterprises — that's actually where I see the real guideposts of where the price will go," said Chu, managing partner at cryptocurrency fund Kenetic Capital in Hong Kong, who first bought bitcoin at about $1,100 in 2013.
"One of the main factors is the settling down of the civil wars that have been raging on," Chu said, referring to intense debate within the industry over technology upgrades that resulted in the formation of a rival coin called bitcoin cash. "There's much less drama at the moment at least. One side has disarmed and that has really provided a clear path ahead to show that the ecosystem can grow in a more predictable manner."
Read more: A QuickTake explainer on the forks and fights behind bitcoin
Chu sees some risk of a correction, but not a major one, and said that high prices will ironically serve to draw more institutional interest.
Dave Chapman at Octagon Strategy
"Now, you're getting an enormous amount of legitimacy and credibility in the bitcoin protocol," said Chapman of cryptocurrency trading firm Octagon Strategy in Hong Kong. "Admittedly, there is an element of FOMO (fear of missing out). That's not entirely healthy for the current market. There is a sizable amount of people investing in bitcoin purely on speculation."
Chapman sees a correction coming, but is unsure how large it will be.
"I see possibly a correction but then also an immediate bounce-back just owing to the size of the market. People will double down and see it as a buying opportunity."
Gavin Yeung at Cryptomover
"Owning a whole bitcoin is now a status symbol," said Yeung, CEO of Hong Kong-based investment company Cryptomover. "We are coming to see that bitcoin itself is a Veblen good. The higher the price, the more desirable the product is to the general public."
Lewis Fellas at Bletchley Park Asset Management
"The principal driver has been the proposed CME futures contract, which has really woken up Wall Street," said Fellas, chief investment officer at Bletchley Park Asset Management, which invests in cryptocurrencies. "The secondary driver is media coverage. It's fueling a fear-of-missing-out as we set successive new highs, luring people in for a quick profit ahead of the futures contract."
The risk of a near-term retreat is real as regulators could still block or delay the proposed futures, Fellas said. "A delay or 'no' could easily trigger a 30 to 40 percent correction."
Read more: http://www.bloomberg.com/news/articles/2017-11-29/what-bitcoin-watchers-are-saying-after-the-surge-past-10-000