February 7, 2018
Two days after a sudden spike in volatility sparked a stock-market crash, market participants are left to ponder the wreckage of the sell-off and the mysterious dynamics that caused it. One theory that's emerging: the curious case of the tail wagging the dog.
Two exchange-traded products that democratized access to one of Wall Street's most tried-and-true strategies — selling volatility — had just $3.6 billion in assets on Monday. That's a tiny fraction of the roughly $2 trillion estimated to be linked to short-volatility strategies — and a speck of dust compared to the $23 trillion in market value of S&P 500 companies.
Yet the popularity of these vehicles might have contributed to one of the most violent moves in U.S. equities in history: one that saw the Dow Jones Industrial Average slump more than 6 percent in a span of six minutes. After the dust settled, the combined assets in the two exchange-traded products shrank to $135 million. One of them — the VelocityShares Daily Inverse VIX Short-Term ETN, known as XIV — will soon be extinct.
No one knows for sure what played out on the afternoon of Feb. 5 on Wall Street, cautioned Societe Generale SA managing director Ramon Verastegui, but there's reason to believe the sharpness of the retreat in equities was linked to traders' understanding of how the exchange-traded products would behave. As funds' assets swelled, so too had their power to move the underlying VIX futures markets, he suggests. And market participants knew it.
Explaining Short Volatility and How It Took a Beating: QuickTake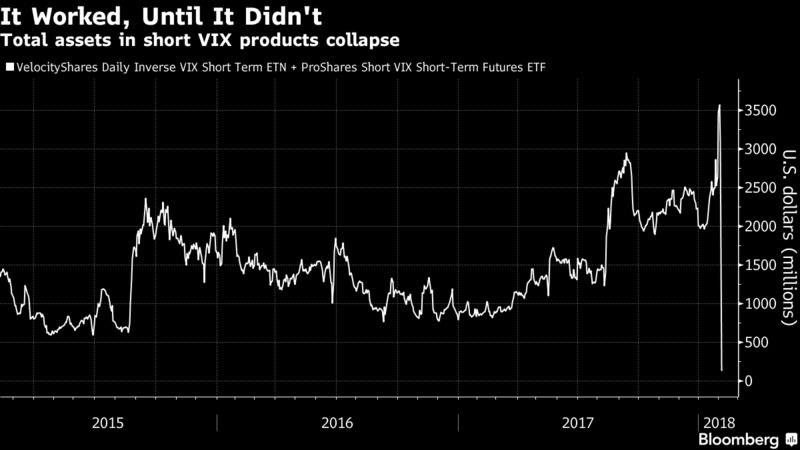 Products such as XIV and its close relation, the ProShares Short VIX Short-Term Futures ETF (SVXY), aim to offer investors exposure to the inverse of the daily moves at the front portion of the VIX futures curve, and typically benefit from market tranquility.
The VIX futures curve is linked to the Cboe Volatility Index, often called the market's "fear gauge," which in turn is a measure of the implied volatility in the S&P 500 Index over the next month. (The VIX tends to move in the opposite direction of U.S. stocks.) Such products typically buy VIX futures as the index rises and sell them as it falls as they seek to maintain a constant degree of exposure to the underlying index.
"People know that ETNs have to rebalance, and which way they have to go and about how much they have to buy," Verastegui said. "Imagine you are a trader, it's 2:30 p.m. and VIX futures are up about 3 points — you know what is going to happen at the close."
Best Options
At that point, a trader's best options to cover existing exposure or attempt to benefit from the presumptive end-of-day move would be to buy VIX futures or short stocks, added Verastegui.
It was a theory echoed by Barclays Plc analysts in a research note published after Monday's sharp spike in the VIX. As volatility-related products scrambled to buy VIX futures in order to rebalance ahead of their 4:15 p.m. daily deadline to calculate the value of their underlying assets — they effectively pushed up the price of the contracts and eventually the index.
Demand from leveraged VIX exchanged-traded products was "the major driver for the move post the cash close," Barclays analysts led by Maneesh Deshpande said.
There are other clues in the case — notably that the big fall in stocks hasn't yet significantly affected other asset classes. That the volatility spike was concentrated in equities supports the notion of a VIX product-propelled plunge, according to George Pearkes, macro strategist at Bespoke Investment Group. During other eruptions of volatility — the aftermath of China's shock devaluation of the yuan in August 2015, for instance — volatility in stocks, bonds, currencies and even oil jumped.
"This is the exact opposite of a number of different volatility spikes we've seen in recent years," he said in an interview on Bloomberg TV. "Frankly, it's a reason to think that some of the worst of the recent moves in the VIX and the delta moves in cash equities have been driven specifically by equity-vol products that have not spread out to other asset classes."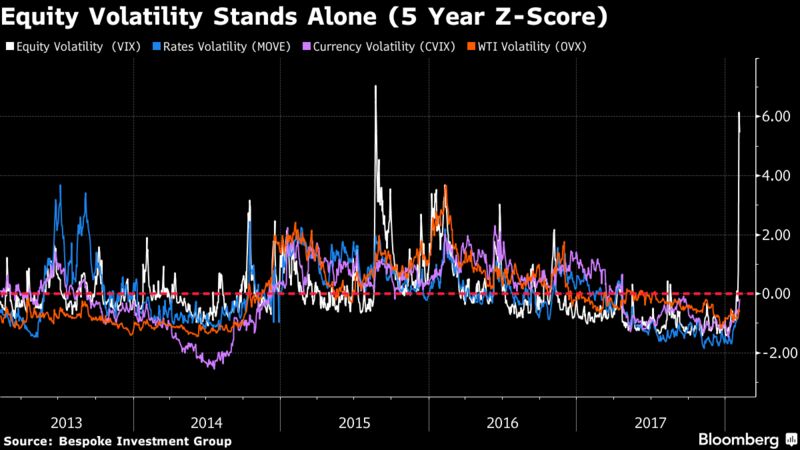 To be sure, the seeds for a pull-back had been sown well ahead of 3 p.m. on Monday. January's stock-market euphoria and strong returns likely prompted pensions to reduce risk after a strong start to the year, setting the stage for a grind higher in realized equity volatility that would hit a remarkable crescendo as Wall Street chased the moves in a bid to cover a so-called short gamma position.
But even as 2018 kicked off with soaring stocks and subdued volatility, signs of complacency in short-vol land had cropped up.
Dave Roberts, an independent trader of volatility products and associated derivatives, noted that at the expiry of the January VIX contract, the front and second-month contracts were trading at a fairly narrow spread, in contrast to the wider gap at the December expiry. All else equal, that's a negative development for shorting volatility through VIX exchange-traded products, as the trade offers positive carry to the extent that second month VIX futures are higher than the front month.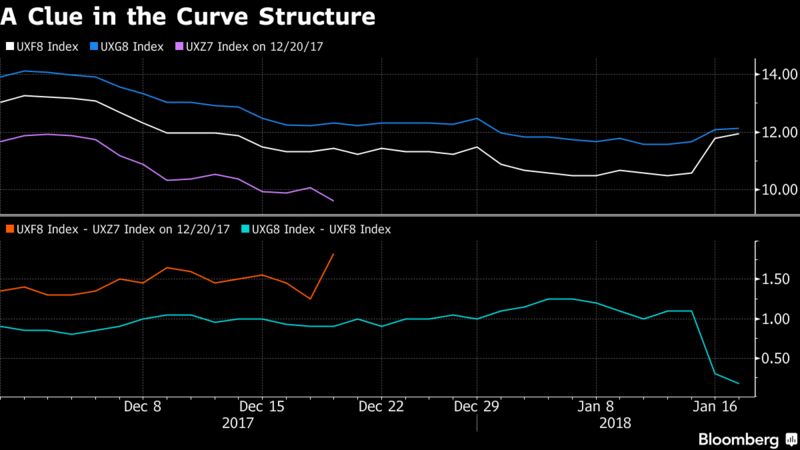 To Roberts, this served as a signal that the dynamics of the trade had changed — a shift seemingly ignored by the record $1.7 billion in assets that piled into XIV and SVXY in January as investors enjoyed a strong rally in stocks.
"On the 30th, when February VIX futures went over March, that was my signal to get out and walk away because stuff gets out of control when the board goes backward," he said. "If you're going to play the short-vol game, basically the goal is to just stay alive and avoid any circumstance where things can go up in smoke in minutes."
Others weren't so lucky. On the social media forum Reddit, trading the XIV had proved so popular that it had earned its own forum called "tradeXIV." That forum is now home to a host of horror stories from retail investors who lost nearly everything and the hard lessons learned.
"You have some less sophisticated investors that don't understand the VIX complex in total, not to mention the F-1 filings of the products they're participating in," said Seth Golden, president of Finom Group, adding that many of them were pushed out of the trade. F-1 filings are a type of financial-registration form.
The former Target manager
Golden, a former logistics manager at Target Corp. who became the subject of a New York Times profile on day traders shorting volatility, said he came into the year with an underweight position in short vol after a torrid 2017, but has added to it amid the market carnage with an eye on increasing exposure to roughly 20 percent of his portfolio from 13 percent.
One silver lining to the crash: SVXY and XIV now lack the heft to roil markets, according to some. Pravit Chintawongvanich, head of derivatives strategy at Macro Risk Advisors, said the massive purchases of VIX futures carried out on Monday "covered 96 percent of their risk," adding that they had "effectively been wiped out." Analysts at Goldman Sachs Group Inc., agreed, noting that the volatility complex was effectively long vol after Monday's big move.
Purgative Effect?
The decimation of these products potentially removes one avenue for volatility spikes, as their rebalancing needs are a function of their assets and the move in VIX futures. More than a dozen of volatility-pegged products were halted on Tuesday as the Cboe Volatility Index gyrated wildly. Shares in the Cboe itself, which has reaped licensing fees from the oodles of products tied to its flagship index, also tumbled a record 17 percent on Tuesday. The company didn't immediately respond to a request for comment.
Meanwhile, Wall Street quickly shifted its attention to how this recent episodic surge in volatility could spur further pain in stocks. Barclays, Goldman, and JPMorgan Chase & Co. have each warned of a wave of equity selling — with estimates as high as $225 billion — in the coming days in response to Monday's mayhem, primarily as a result of trend-following strategies or target-vol funds paring down risk.
However, SocGen's Verastegui isn't sure it's that simple. Not too many funds are strictly rules-based, he said. And most assets tied to volatility-targeting strategies afford their managers "a huge among of discretion" — so divining how much they might divest is no easy task, he says.
One Down…
On Tuesday, Credit Suisse AG, the issuer of XIV, exercised its discretion and announced the redemption of the note. On Feb. 5, the indicative value of the product was less than or equal to 20 percent of the prior day's closing indicative value, the bank said, adding that it suffered no trading losses related to the notes. Shares of the Swiss-based bank had been down as much as 8.5 percent as investors feared XIV's demise could dent its earnings.
SVXY, for its part, lives to fight another day — albeit with massive losses. ProShares said the fund's tumble "was consistent with its objective and reflected the changes in the level of its underlying index." The product will be forever linked with the events of Feb. 5 — when many investors learned that a seemingly free lunch can spoil quickly, and ruin some other people's parties too.
Read more: http://www.bloomberg.com/news/articles/2018-02-07/how-two-tiny-volatility-products-helped-fuel-sudden-stock-slump