September 24, 2017
Uber Technologies Inc. was struck with a stunning rebuke in London, where regulators revoked its license to operate and chastised its corporate culture, adding to the expansive list of controversies facing the beleaguered ride-hailing company. 
London is one of Uber's largest and most lucrative markets, with 40,000 drivers and 3.5 million people who use the app once every 90 days. The broadside is a striking move against the free-wheeling business practices that contributed to the ouster of former chief executive officer Travis Kalanick. The company is also grappling with allegations of sexual harassment, labor-rights abuses, skirting regulation, bribery of government officials and a lawsuit accusing it of stealing self-driving car technology.
Transportation authorities in London concluded Uber isn't "fit and proper to hold a private hire operator license." The agency cited a failure to do proper background checks on drivers, report crimes and a program called "Greyball" used to avoid regulators.
The company has 21 days to appeal and can continue to operate during the appeal process. "We intend to immediately challenge this in the courts," said Tom Elvidge, general manager of Uber in London.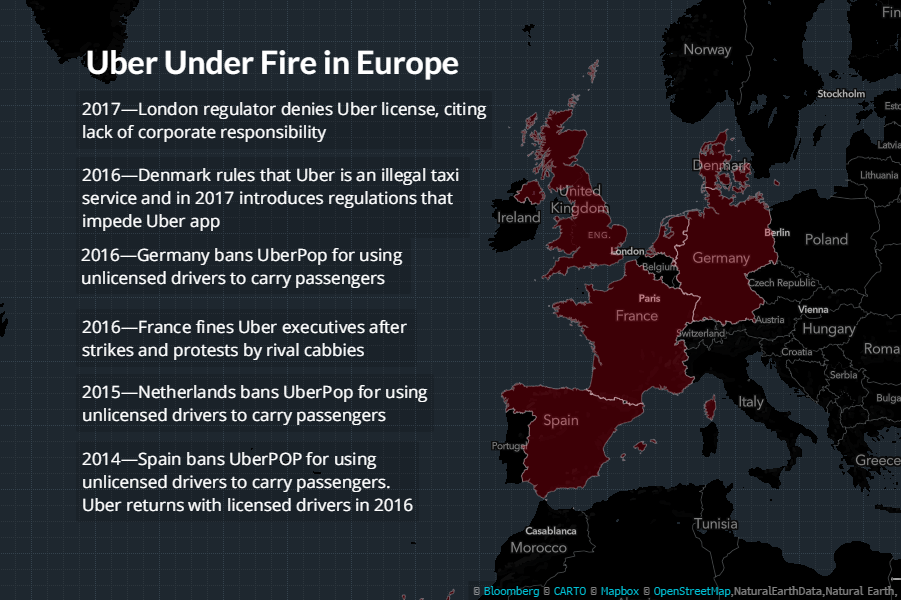 Uber has faced resistance in markets from Paris to the Philippines, but London's ruling is one of the most threatening to date. The decision pits the popularity of the company among millions of customers, against regulators and taxi drivers who want tighter controls.
The outcome also has financial implications for Uber at a time when its backers are in talks for a potential stake from SoftBank Group Corp. and others investors of as much $12 billion. Uber has been valued at about $70 billion.
QuickTake Q&A: Uber Heads to Court Over London License
As Uber has upended the global transportation industry, it has also invited controversy. Authorities faulted Uber earlier this year for allowing a London driver who had sexually assaulted a rider to get back on the road. 
Uber's "approach and conduct demonstrate a lack of corporate responsibility," the regulator, Transport for London, said in a statement.
The decision was cheered by the city's traditional black cab industry, which has been hurt by the proliferation of Uber drivers and has aggressively pushed for tighter regulation of the San Francisco-based ride-hailing service. Taxi drivers, many of whom now use the rival apps Gett and MyTaxi, must go through extensive testing before receiving a license, while Uber drivers have fewer requirements.
"All companies in London must play by the rules and adhere to the high standards we expect," London Mayor Sadiq Khan said in a statement. "Providing an innovative service must not be at the expense of customer safety and security."
Uber cars have filled London streets since its arrival in the British capital in 2012, identifiable by the smartphones drivers keep holstered to their windshield. 
While its corporate image has taken a hit in recent months, city officials are now risking a backlash from customers who find it's often cheaper and more convenient than hailing a black cab. In a previous showdown with New York City Mayor Bill De Blasio, Uber lobbied its customers to fight proposed restrictions.
Uber has already begun borrowing pages from that playbook. Pierre-Dimitri Gore-Coty, head of Uber's Europe region, laid out a plan to mobilize supporters through email and social media, and cultivate new allies in politics and business while it drafts a legal challenge, according to an email to staff obtained by Bloomberg. He also said Uber is pushing a Twitter campaign, #SaveYourUber, and an online petition, which gathered more than 300,000 signatories in just a few hours.
"As the date for renewal approached, our team prepared for all scenarios," Gore-Coty wrote. "While the appeal process could take several months, we are ready to engage in a vigorous legal defense as I know we play by the rules."
London's decision adds to the problems facing Dara Khosrowshahi, Uber's new CEO, who is juggling a host of inherited controversies. Khosrowshahi wrote in a tweet that Uber is "far from perfect" but asked the city to work with the company "to make things right."
"No company can behave like it's above the law, and that includes Uber," said Maria Ludkin, legal director of GMB, the U.K.'s drivers union. "No doubt other major cities will be looking at this decision and considering Uber's future on their own streets."
Uber disputed the allegations made by regulators. The company said it conducts thorough background checks of drivers and had made several changes to improve safety. The company also said the Greyball program had never been in the U.K. "for the purposes cited by TfL."
"By wanting to ban our app from the capital Transport for London and the Mayor have caved in to a small number of people who want to restrict consumer choice," said Elvidge, the Uber manager in London. "If this decision stands, it will put more than 40,000 licensed drivers out of work and deprive Londoners of a convenient and affordable form of transport."
Some are already coming to the defense of Uber. "It's not in the interests of our economy, people in London and in this case, drivers, to restrict new products and services," said Tom Thackray, director at the Confederation of British Industry.
Although the conclusion of the ruling may take some time to play out in the U.K. courts, rivals are already circling Uber users. Daimler AG-owned Mytaxi, a black cab hailing app, was offering half-off fares on Friday.
Read more: http://www.bloomberg.com/news/articles/2017-09-22/london-authority-revokes-uber-s-private-hire-license