October 13, 2017
President Donald Trump's pledges to overhaul taxes, trade, infrastructure and health care may thrill some corporate leaders, but it's causing many to delay expansions. That's bad for banks.
Lending growth probably decelerated for a fourth straight quarter in the three months ended Sept. 30 across more than a dozen of the biggest U.S. banks, according to Royal Bank of Canada analysts and Bloomberg calculations. Their total loans may have ticked up just 1.8 percent, the smallest increase in more than two years, as commercial and industrial customers held off on buying equipment and building plants.
Executives are "hesitant to borrow in the face of uncertainty," said Jason Goldberg, an analyst at Barclays Plc. "Whether it's potential tax reform, health-care uncertainties, or they're unclear what infrastructure spending is going to look like, you've definitely seen corporates take a pause."
Washington's inaction has been frustrating bankers for months, a sentiment that may surface anew when they start posting quarterly results this week. During the last round in July, JPMorgan Chase & Co. Chief Executive Officer Jamie Dimon lashed out, saying, "There would be much stronger growth if there were more intelligent decisions and less gridlock." In June, Bank of America Corp. Chief Operating Officer Thomas Montag said corporate clients need clarity to make big investment decisions.
Trump and his top economic adviser, Gary Cohn, have said they expect the financial industry to help fund growth. But instead, a dearth of progress on big legislation has stymied that business.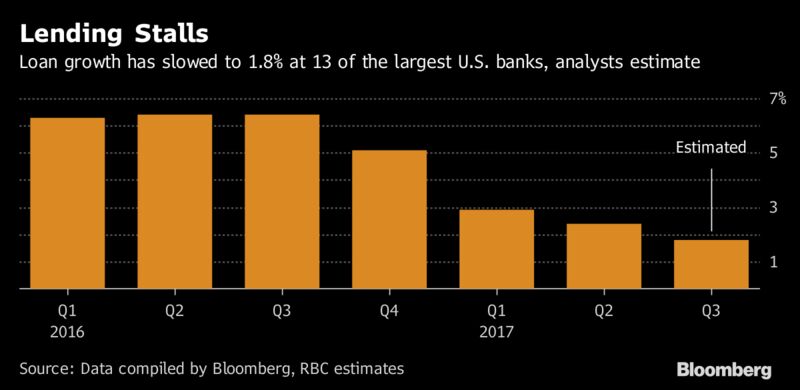 Congressional Republicans spent much of September trying to resurrect a failed health-care bill. Then Trump told lawmakers his $1 trillion infrastructure plan may not rely on public-private partnerships, potentially throwing a wrench into a key priority. The president also released a tax plan that many analysts consider unlikely to win support until designers can prove it won't balloon the federal deficit.
For banks, the uncertainties are compounding challenges in lending, which also is being constrained by tighter regulation and slower-than-expected interest-rate hikes — factors that have crimped trading revenue too. Low yields have encouraged firms to issue bonds and use the proceeds to repay bank loans, said Alison Williams, an analyst at Bloomberg Intelligence. U.S. Bancorp CEO Andrew Cecere addressed the challenges at an investor conference last month.
"With the low yield curve, there was a lot of debt issuance, and that debt issuance was used to pay down some bank lending," he said. In addition, "there was some more uncertainty that entered the market because of some of the slowdown in the perceived timing of tax policy and trade policy and regulation," slowing companies' capital expenditures.
'Mental Signal'
Corporate executives' outlook for the next six to 12 months deteriorated in July and August, with some respondents citing heightened policy uncertainty, the Federal Reserve Bank of Chicago said last month. The number of workers on U.S. payrolls declined in September for the first time since 2010, reflecting major disruptions from hurricanes Harvey and Irma.
For now, bank investors are willing to look beyond that. The 24-company KBW Bank Index surged more than 30 percent from the November election to early March on optimism that Trump's administration will eventually ease bank regulation, reignite inflation and drive up interest rates. The rally resumed in September as attention shifted to taxes.
"People were underweight financials for a long time," said Chris Whalen, an independent analyst and consultant. "When Trump got elected that was a mental signal for these guys that we should increase our allocation."
Investors continue to see reasons for optimism. Trump's plan to cut corporate tax rates would be particularly beneficial for banks, whose burdens are often elevated by a lack of deductions. The six largest U.S. banks could see net income rise $6.4 billion under the administration's proposal. And lenders still produce big profits. JPMorgan generated $26.5 billion in the 12 months through June, a record for any U.S. bank.
Mortgage, Autos
Yet expectations for the third quarter are measured. JPMorgan, the nation's largest bank, may say Oct. 12 that adjusted profit rose 2 percent to $5.89 billion, according to analysts surveyed by Bloomberg. At Citigroup Inc., set to report the same day, profit probably slipped 1 percent to $3.57 billion.
Wells Fargo & Co. and Bank of America report the following day and Goldman Sachs Group Inc. and Morgan Stanley release earnings next week.
There are other reasons for concern. While consumers are still borrowing more, there's mounting evidence they're becoming less reliable, potentially ending a period in which losses were low. Credit cards face heightened competition, while an overheated auto market has led some lenders like Wells Fargo to pull back.
And for mortgage lending, a big driver for banks in the run-up to the 2008 financial crisis, new rules have made it more difficult to make money. Survivors have been buying loans from smaller "correspondent" lenders, a strategy that's started to run out of room.
"You will see some pain this quarter," Whalen said. "JPMorgan and Wells Fargo have been bidding aggressively."
Trading Declines
Trading also is expected to be down, in part because the lack of congressional action has left clients with few reasons to buy or sell. Executives from JPMorgan, Citigroup and Bank of America told investors last month to expect declines ranging from 15 percent to 20 percent in the third quarter from the same period a year ago.
That may leave investors and analysts looking past this quarter's results to the end of the year, when lawmakers may have more progress to show on tax policy and other priorities.
"Banks tend to be more optimistic looking out than they are in the current quarter, so we'll see," Barclays's Goldberg said. "Pipelines are good. At the end of the day though, loan growth is a reflection of the economy and economic growth has been a little bit more subdued than desired."
Read more: https://www.bloomberg.com/news/articles/2017-10-09/banks-pine-for-loan-growth-as-clients-wait-on-trump-s-promises