October 12, 2017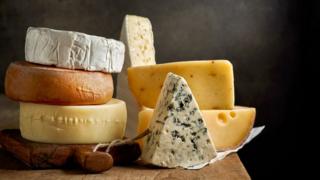 A van driver was pulled over by police as he had too much cheese on board.
Officers found the vehicle was 41% over its weight limit, in Sawtry, Cambridgeshire on Monday.
The driver was left in a pickle as the van had 2,822lb (1,280kg) more cheese than it was allowed to carry. Officers said it had to be "removed or eaten".
During a grilling, the driver was allowed to take some of the dairy produce away but made to call in another van to take the excess.

Bedfordshire, Cambridgeshire and Hertfordshire road policing unit officers discovered the problematic produce, at a weighbridge off the A1.
More news to chew over from Cambridgeshire
It is not yet known exactly which varieties of cheese had grated with police.
Read more: http://www.bbc.co.uk/news/uk-england-cambridgeshire-41566545