November 20, 2017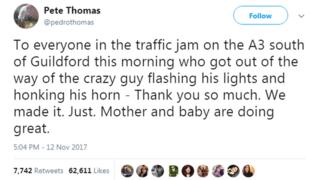 A man who honked his car horn and flashed his headlights to get people to make way for him in a traffic jam has announced he was racing to the hospital with his wife, who was about to give birth.
Pete Thomas, from Surrey, thanked drivers on the A3 near Guildford for letting him through and said: "Mother and baby are doing great."
The tweet, which was posted just hours after the arrival of his son on Sunday, was shared and liked around the world by almost 70,000 people.
In one reply, Mr Thomas added: "It was all OK… in the end. Becs did great. Little man (9lb 9oz [4.3kg], so not that little) is loving the world!"
His tweet was spotted by some of the drivers who made way for him, including Peter Davis who replied: "A ha! So, it was you – 52 in a 30mph zone, ticket on the way. PC Johnson."
And John Whiteman tweeted: "You are very welcome… you were definitely on a mission. So, well done. The traffic jam was a challenge, wasn't it?… Congratulations."
As well as good wishes from as far away as Manila in the Philippines, other users shared their own stories about attempting to get to the delivery room in time.
Among them was Laura Sheldon, who didn't quite get there. She wrote: "Well done for making it to the hospital! My son was born on the side of the road."
And Garreth Hayes said his personal hospital dash didn't actually make it off the driveway. "My daughter was born in the garage at home. Honking is good," he tweeted.
You might also like:
Stormzy snapchats while stuck in ladies' loo at EMAs
Shopping tweet of grief triggers 'surge of love'
Why people are posting #MeAt14
Even those more used to the odd motorway dash were touched by the story.
London Fire Brigade Fire Cadets posted: "Great tweet. Hey, with that dramatic introduction into the world, maybe his future career is destined to be with the emergency services! Congrats from @LFBFireCadets!"
And self-confessed grump Tony Shand said even he had been cheered up with the news: "Made me smile, and I'm a grumpy git. Congratulations!"
Barrington Aqualung was one of those who reflected that you never really knew why someone was in a rush: "[My] wife always tells me to be more patient with people driving at speed, as they may be in an emergency. You just proved her point! Glad you're all doing well :-)."
Perhaps the wisest last word was left to Shaherezade, who tweeted her congratulations and her advice – to next time stay at home and "call the midwife!"
By Annie Flury, UGC and Social News Team
Read more: http://www.bbc.co.uk/news/uk-41982959