December 16, 2017
A Brooklyn man wearing a pipe bomb attached with Velcro and zip ties set off an explosive in the Times Square subway station Monday morning, injuring himself and three others, sending ambulances racing and commuters fleeing as Christmas shoppers poured into New York City.
The 27-year-old suspect, Akayed Ullah, wore the device that went off shortly after 7 a.m. in an attempted terror attack, Police Commissioner James O'Neill said at a news conference near the scene. Ullah suffered serious burns, while other victims had minor injuries, he said.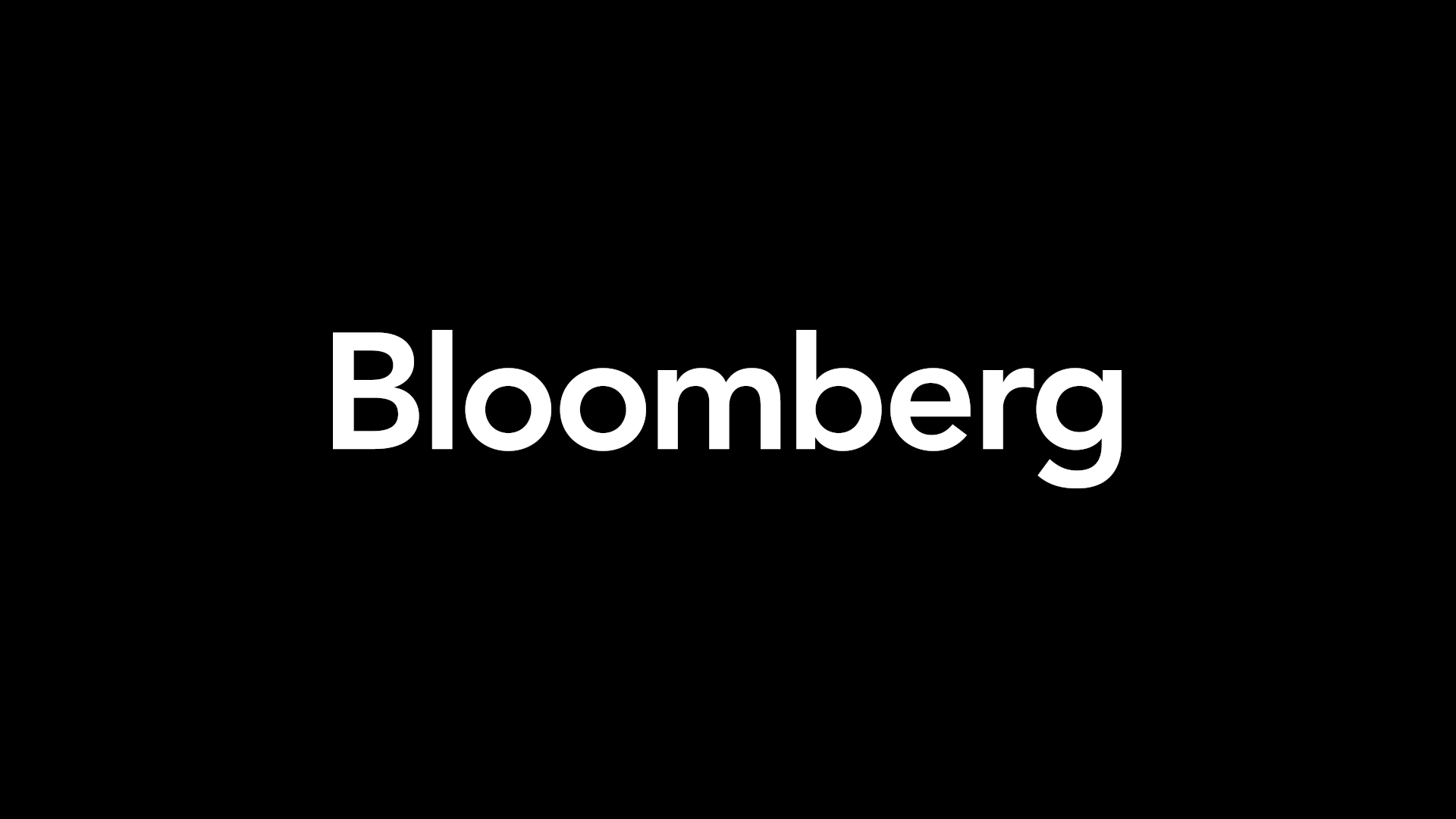 The suspect came to the U.S. from Bangladesh in 2011 on a family immigrant visa and is a legal resident, Department of Homeland Security spokesman Tyler Q. Houlton said on Twitter. Ullah lives on Ocean Parkway in Brooklyn with his mother and a sister, according to a police official knowledgeable about the investigation. He worked as a driver, but has a background as an electrician.
Ullah told police he's a follower of IS, but investigators believe he's a solo actor who planned the attack after reading one of the terror group's publications on the internet, the official said. His rudimentary explosive device, put together with matches, caused more flash than explosion.
Read more: The increasing threat of lone-wolf attacks — a QuickTake
Video surveillance captured the moment. It showed a crowd of commuters trudging toward the camera when a cloud of smoke and dust bursts into the picture. As the cloud fills the screen, dozens of commuters run. One person falls to the floor, apparently injured.
Serious Lacerations
Ullah was taken to Bellevue Hospital Center in Manhattan, said Fire Commissioner Daniel Nigro. The suspect has burns on his hands and abdomen, and serious lacerations, Nigro said. The three victims were taken to hospitals with minor injuries, including ringing ears and headaches, he said.
The attack was the second on New Yorkers in six weeks, coming after a man in a rented truck drove up a crowded bike path on Halloween. Monday's explosion came in the middle of Christmas season, when the city is filled with daytrippers and tourists expecting a fairytale Manhattan.
Mayor Bill de Blasio said New York, with its diversity and bustle, will be a target for people wanting to spread mayhem and fear.
World Beacon
"The choice of New York is always for a reason, because we're a beacon to the world and we actually show that we as a society of many faiths and many backgrounds can work and democracy can work," he said.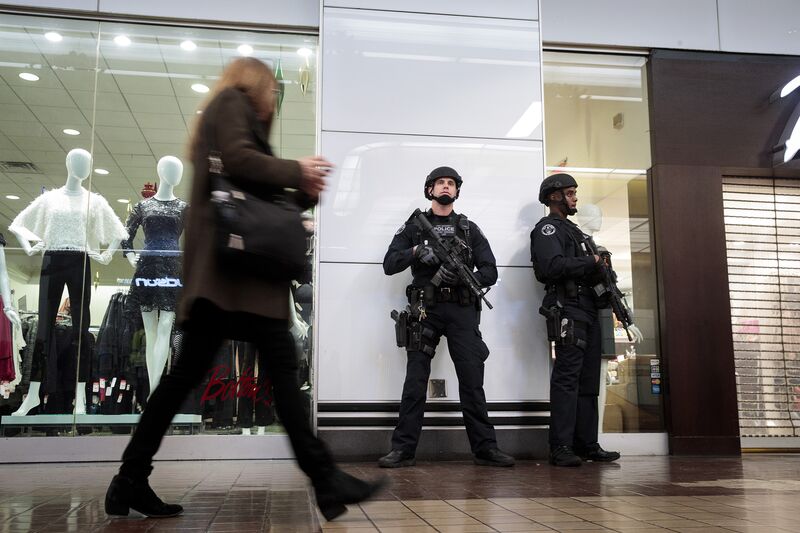 In the sprawling Times Square station, the city's busiest, a "low, muffled sound" was heard when the bomb detonated, according to the New York Times. It went off in a walkway that runs underground between Seventh and Eighth avenues, connecting the lettered subway lines, the A, C and E, with the numbered lines, the 1, 2, and 3.
"You can tell that it was not normal commuter noise," said Roxanne Malaspina, 50, an employee in Bloomberg LP's legal department. She had just gotten off the A train when she heard the explosion and joined a crowd running further into the station to catch a train away from the area.
"It created a little bit of a panic in that underground passageway," Malaspina said. "It's not like normal commuter chaos."
Trump Briefed
President Donald Trump was briefed on the incident, according to spokeswoman Sarah Huckabee Sanders. She said later that the suspect would have been barred by Trump's proposal to end immigration preferences for relatives of residents. The president calls it "chain migration," arguing that the U.S. should give greater weight to the value of skills potential immigrants would bring than their blood connections.
"If his policy had been in place, then the attacker would not have come into the country," Sanders said at her daily White House press briefing.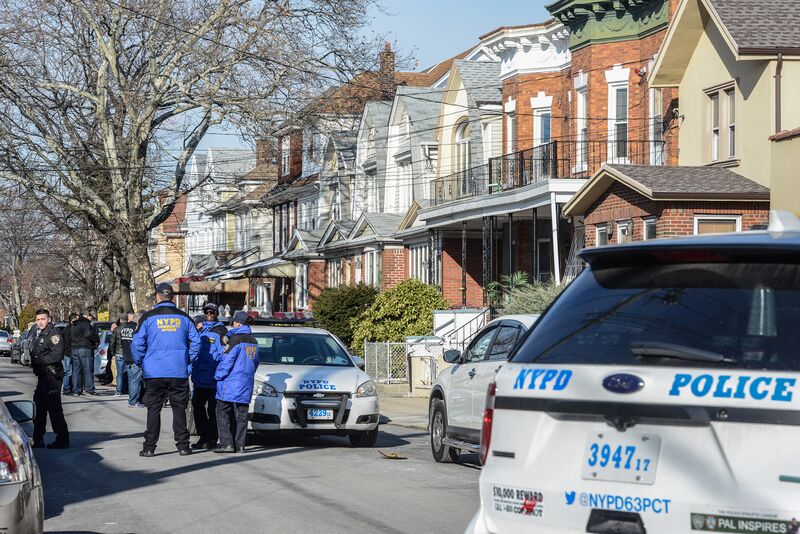 The attack made for a tumultuous beginning to the work week. Sirens echoed through the city as police cruisers and ambulances sped down the streets, and a traffic jam swiftly developed in front of the bus station on Eighth Avenue. Fire trucks lined the street and metal gates blocked access to the scene. Onlookers wielding phone cameras tried to take videos and pictures.
Terror Target
Monday's attack underscored the difficulty of protecting a city of 8.5 million, the nation's largest. Miller said that New York has been the target of the 1993 World Trade Center, the 9-11 catastrophe in 2001 and that 26 other plots "have been prevented through intelligence, investigation and interdiction."
On Sept. 27, 2016, a bomb was detonated in the Chelsea neighborhood. In this year's Halloween attack, Sayfullo Saipov, a 29-year-old Uzbek immigrant, was charged with terrorism. Eight people died, including five visitors from Argentina, and 12 were injured when a rental truck that authorities said Saipov drove plowed them over on a West Side Highway bike path.
"This is a fact of life, whether you're in New York or London or Paris," Miller said. "The question is, 'Can it happen here?' And the answer is, it can happen anywhere."
Jason Harrington, who was visiting New York City from the south of England, was up around 5:30 a.m. Monday to sight-see with his wife around Times Square. They had just boarded a bus to the Empire State Building when they heard about the bombing.
His wife, Sophia, said they called British Airways to see what was going on. "They offered to put us on the next flight home," she said.
They declined.
Read more: http://www.bloomberg.com/news/articles/2017-12-11/blast-in-times-square-subway-triggers-tumult-in-new-york-city