September 20, 2017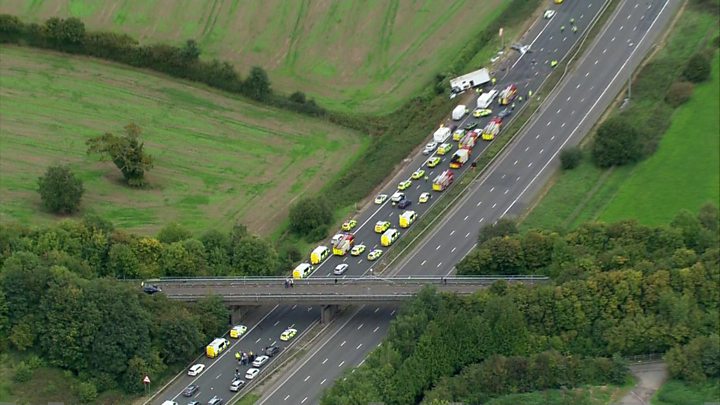 A woman and two children remain critically injured in hospital after an M5 crash that killed four people.
A lorry going south crashed through the central reservation at 14:30 BST on Saturday and collided with two vehicles heading northwards, police said.
Highways England said it expected the northbound carriageway between junctions 16 and 14, just north of Bristol, to remain shut on Sunday.
The southbound carriageway reopened shortly before 06:00.
Highways England earlier tweeted delays were building up from junction 17 and warned drivers about delays on the diversion route along the A38.
No details of the four people killed in the crash, which happened between junctions 15 and 14, have yet been released by police.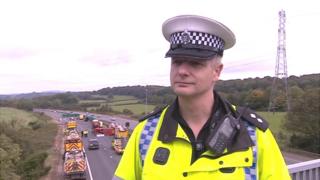 Insp Mark Whitfield, from Avon and Somerset Police, said the 18-tonne lorry had collided with the two cars killing four people – three people from one vehicle died and one person from the other.
"The main issue for us is why the lorry has crossed over from the central reservation. There are a number of lines of inquiry we're looking at, one of which will be if the vehicle had defects."
He said the main challenge now was the "scene clear-up" because of the "significant damage".
He added they hoped that could be done by the end of Sunday but "we can't be certain".
Mr Whitfield thanked members of the public for "their support and patience" and said the force was grateful for "a significant amount of evidence from mobile phone footage".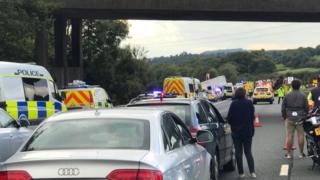 The injured woman and children were taken to Southmead Hospital and Bristol Children's Hospital after the crash, where they were described as "critical but stable".
The driver of the lorry was taken to hospital to be checked over as a precaution.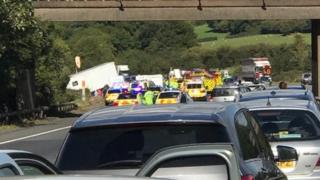 Motorists were stuck for hours on the motorway following the crash.
Cardiologist Dr Amer Hamed, who was in a car travelling northbound, seconds behind the vehicles caught up in the collision, said: "There was a lorry involved and at least two other cars. One was absolutely destroyed and another had flipped over."
Dr Hamed said that he and a GP, who was also in a car at the scene, treated an injured woman.
He said motorists who had been stuck on the carriageway for several hours were "very helpful" and had offered food and water to other people who were stuck.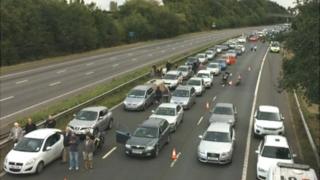 Jasper Foxx was travelling southbound with friends Daniel Stephenson and Stephen Dibley at the time, and were some of the first on the scene after the collision.
Mr Foxx said: "The crash was utterly horrific – it is not anything I'd wish anyone to see. We've been quoted as heroes but it is just human nature.
"It was our instinct to stop – you can't drive past something like that. It was like something out of a disaster movie. The cameras and pictures just don't do it justice."
Mr Stevenson, who is first aid trained, said they were "all trying to do our best".
He said: "It was harrowing. It was autopilot for me – just get people out, get people safe."
Mr Dibley, who was driving, said: "Jasper gave us the heads-up to start braking and I pulled on to the hard shoulder.
"It was heart warming in this day and age that people stopped to help rather than whip their phones out and start videoing everything."
Read more: http://www.bbc.co.uk/news/uk-england-bristol-41297954