December 10, 2017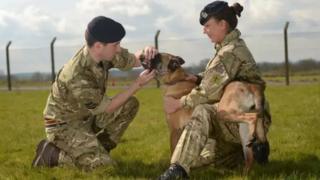 Two retired army dogs which faced being destroyed because they were too aggressive to rehome have been saved, the BBC understands.
Kevin and Dazz, both Belgian shepherds, were deployed in Afghanistan and were retired from frontline service in 2013.
The dogs are based at the Defence Animal Centre in Melton Mowbray, Leicestershire.
Foreign Office Minister Sir Alan Duncan wrote to the Ministry of Defence (MoD) on Friday to call for a reprieve.
The MoD has assured their dog handlers that they could be saved.
A third animal, a police dog named Driver, who was also at risk, could also be rehomed.
More stories from across the East Midlands
Sir Alan, the MP for Melton and Rutland and Minister of State for Europe and the Americas, said: "It is very good news, as long as they have a good home, which also guarantees safety for people.
"We are all happy for Kevin and Dazz and also good luck to Driver."
He said they were "hero dogs who have fought fearlessly alongside our soldiers" and any danger to people "must be proven".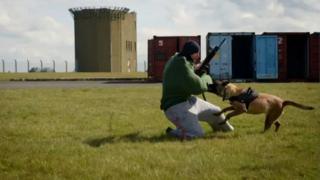 Former soldier turned author Andy McNab launched an online petition, which has more than 370,000 signatures and will be delivered to the centre in Melton Mowbray.
"Service dogs have saved my life on numerous occasions," he said.
"Dogs like Kevin, Dazz, and Driver are an asset when they are serving but they are even more of an asset when they are retired."
The Belgian shepherds went on patrol with troops in Afghanistan and were used for their aggression.
The MoD had said: "Wherever possible, we endeavour to re-home them [dogs] at the end of their service life.
"Sadly, there are some occasions where this is not possible."
Read more: http://www.bbc.co.uk/news/uk-england-leicestershire-42228449