March 7, 2018
The impact of a powerful nor'easter diminished on Saturday after the storm caused chaos along the U.S. East Coast, halting trains and forcing airports to ground flights as high winds and heavy rain knocked out power and flooded Boston streets.
Hundreds of thousands of homes and businesses were still without power on Saturday along the Atlantic Coast, and flight delays continued but at a lower rate as the storm system pulled away from the New England coast.
Strong winds on Friday prompted the federal government to close offices in Washington, and flights were temporarily suspended at New York's LaGuardia and John F. Kennedy International airports. Downed trees led Amtrak to suspend service between Boston and Washington.
"This could be one of those storms that goes into the record books," said Kim Buttrick, a National Weather Service meteorologist.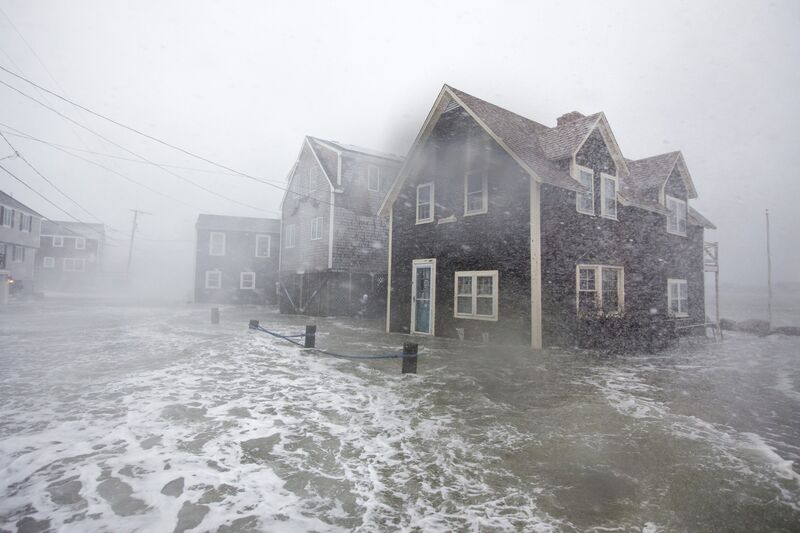 In Washington, winds of almost 99 miles-per-hour (159 kilometers per hour) prompted the Federal Aviation Administration to close Dulles International Airport's control tower around noon Friday local time, said Christina Saull, a spokeswoman for the Metropolitan Washington Airports Authority. Controllers were able to move back to the main tower about 30 minutes later, Saull said.
Planes, Trains
More than 3,400 flights were canceled and almost 5,000 were delayed across the U.S. on Friday, according to FlightAware, an airline-tracking service. More than 40 percent were at LaGuardia, JFK and Newark Liberty International Airport, said Steve Coleman, a spokesman for the Port Authority of New York & New Jersey.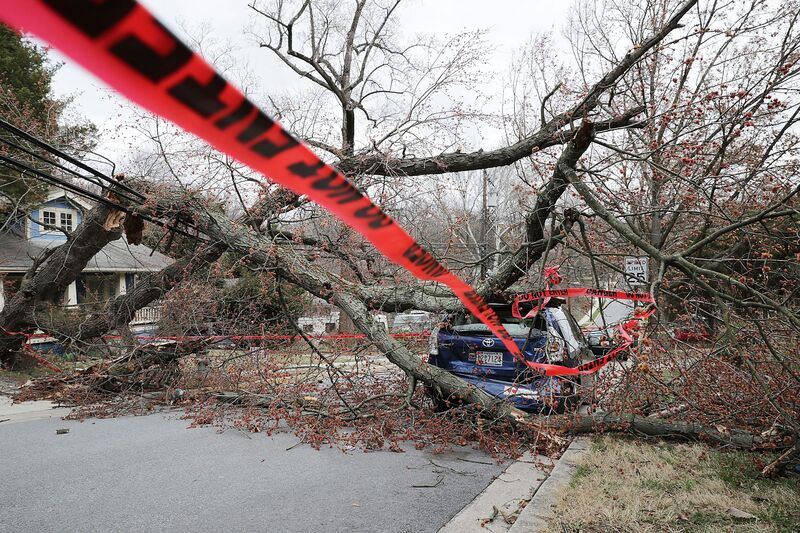 By 1 p.m. ET on Saturday some 585 cancellations and 1,349 delays had been logged, mostly in the Northeast, with Boston's Logan International Airport heading the list.
In addition to the Northeast Corridor, Amtrak suspended service between New York City and Harrisburg, Pennsylvania, on Friday. The rail service was still operating on a modified schedule Saturday; partial service resumed between Washington and New York.
Power outages climbed Friday as the advancing storm toppled trees and power lines. At the peak, more than 2 million homes and businesses from Ohio and North Carolina to Maine were without electricity, according to data compiled by Bloomberg from utility websites.
Slow Motion
Tropical-storm-force gales roiled waters off Massachusetts and flooding streets in Boston. The city's harbor recorded its third-highest tide ever. Cities from Maine to Virginia reported minor to moderate flooding.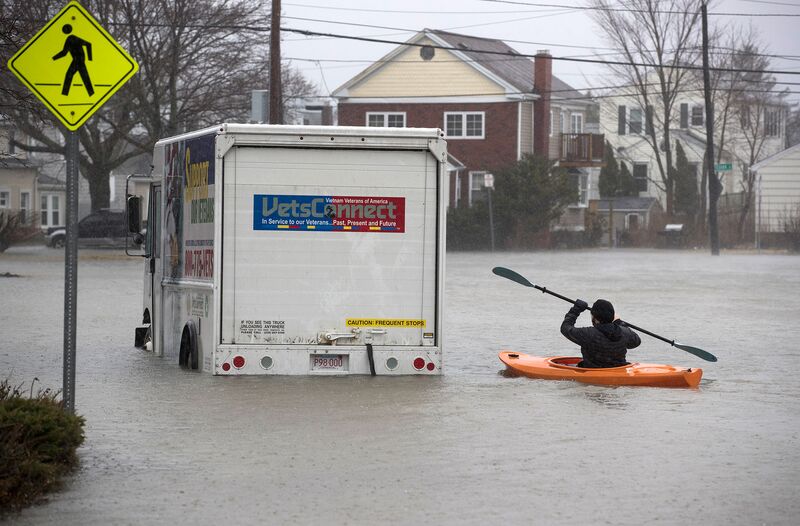 Tides were far higher than normal in Jamaica Bay in Queens and along southern Long Island. Heavy surf was also recorded along the coast, and buoys in Massachusetts Bay logged waves of 15 feet (4.6 meters). They were nearly 14 feet south of Montauk, Long Island, according to the National Data Buoy Center in Stennis Space Center, Mississippi.
Powerful 20-foot waves crashed into coastal towns in the vicinity of Boston and on Cape Cod, washing out roads, damaging homes. That could leave people stranded "for an extended time," the National Weather Service said.
The Massachusetts Emergency Management Agency urged residents along the coast to make evacuation plans. Many schools in coastal cities and towns closed on Friday.
$468 billion
Coastal flood warnings, watches and advisories are in effect along the New Jersey coast and as far south as Virginia. More than 1.2 million homes worth more than $468 billion are at risk from coastal flooding in 11 states from Maine to Virginia, according to the Insurance Information Institute in New York.
"Nor'easters can cause higher tides than hurricanes," Ronald Busciolano, a supervisory hydrologist with the U.S. Geological Survey, said in a statement.
In addition to the coastal flooding, heavy rain may send rivers over their banks, the weather service said.
Buttrick said residents should heed evacuation notices and no one should go sightseeing. "We don't want any casualties," she said.
Read more: http://www.bloomberg.com/news/articles/2018-03-02/nor-easter-grounds-flights-leaves-thousands-without-power