December 5, 2017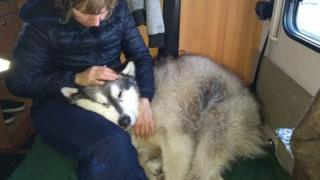 A dog has been reunited with his owners after days lost in snow and freezing temperatures in Glen Coe.
Alaskan Malamute, Kobe, was found by the side of the A82 by a passing motorist at 03:00 on Tuesday near to where he ran off on Sunday.
His owner David Parry, from Glasgow, had thought he had clipped on Kobe's harness when the dog tried to chase deer he had spotted in the distance.
Kobe was exhausted but otherwise unharmed by his ordeal.
While the seven-year-old dog has a thick coat, Mr Parry said he was still a "pampered pooch" used to a warm bed in a central heated house.
Kobe and another dog, Echo, are part of Scotland's Team AKobE Marathon Community, which encourages people of all ages and abilities to take part in free running and full marathon events.
Mr Parry said he and friends were in Glen Coe for a run when Kobe got loose.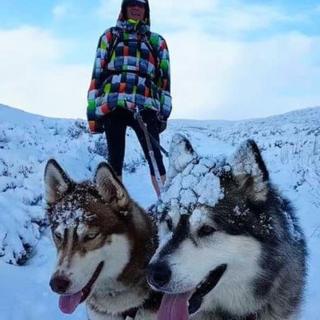 The marathon runner said: "Sunday was a beautiful day, with fantastic conditions, and after our run I wanted to take some pictures of Kobe and Echo in the snow.
"I thought Kobe was clipped on to me, as he always is when we're out, but he wasn't. It was human error."
Though a fit dog, Mr Parry said he was too slow to ever be able to catch up with a deer.
Mr Parry and a friend managed to track the dog for a time across a boggy, snow-covered moor.
When they were forced to give up their efforts, Mr Parry posted appeals on social media and was overwhelmed by the offers of support that followed.
On Tuesday, a driver spotted Kobe by the side of A82 near a road to the Glencoe Mountain snowsports centre.
Kobe had been heading back towards where Mr Parry had parked his campervan on Sunday. However, by Tuesday Mr Parry was away following up on a possible sighting of the dog.
Mr Parry said: "The gentleman who stopped stayed with Kobe for four hours until we were able to meet him. We can't thank him enough for stopping."
Read more: http://www.bbc.co.uk/news/uk-scotland-highlands-islands-42166808