August 24, 2017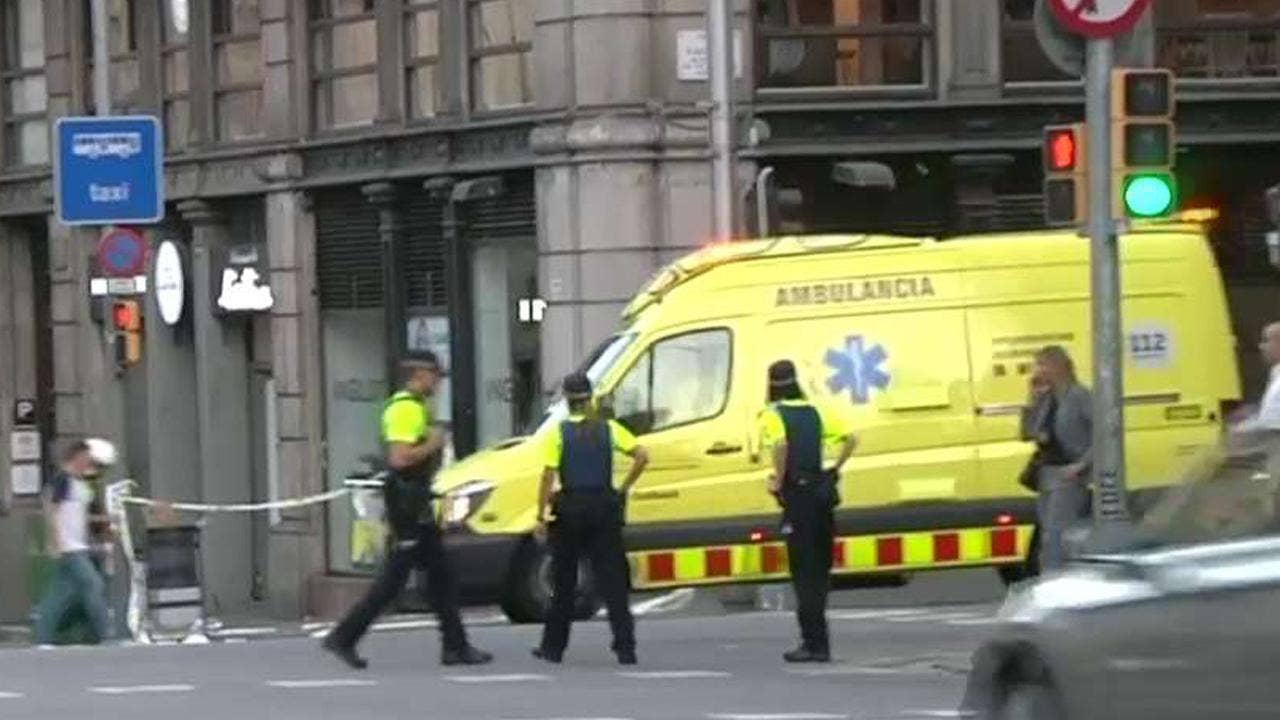 Police are on the hunt for the driver of the van that rammed through a crowded tourist area in Barcelona Thursday, killing 13 people and wounding more than 100 others in what investigators called an act of terror.
At least two people have been arrested as suspects in the attack, according to the regional president of Catalonia. One of the suspects is a Spanish national from Melilla, and the other is a Moroccan citizen who lived in Spain legally.
ISIS claimed responsibility for the terror attack on Thursday through its propaganda arm, according to SITE Intel Group.
"The perpetrators of the attack in #Barcelona are Islamic state soldiers and carried out the operation on command of [ISIS' leader] of targeting coalition countries," the ISIS release stated.
A senior police official said the van attack is connected to a gas explosion inside a house in the town of Alcanar Wednesday, in which one person was killed and seven were injured.
Police initially named Driss Oukabir, the Moroccan, as a suspect in the attack. However, local media are reporting a man with that name told police that his identification documents were stolen, possibly by his younger brother.
Oukabir rented the van that was used in the attack, according to El Pais.
A government official has confirmed to Fox News that intelligence agencies are now combing through their holdings, including terror watch lists, to determine if Oukabir was known to the FBI, DHS and other agencies. Officials are also working to determine if the suspect was blocked from entering the U.S., or if this was a radicalized individual that was not on government radar.
BARCELONA TERROR ATTACK: TIMELINE OF RECENT VEHICLE INCIDENTS IN EUROPE
The white van jumped onto a sidewalk and sped through a pedestrian zone on Las Ramblas of Barcelona, the famous main pedestrian walk way that crosses the city. The van swerved from side to side as it plowed into tourists and residents.
"It was clearly a terror attack, intended to kill as many people as possible," senior police official Josep Lluis Trapero said at a news conference.
State-owned broadcaster RTVE reported that investigators think two vans were used — one for the attack and a second as a getaway vehicle.
Police killed a gunman in a shootout a few miles from Barcelona soon after the crash, El Mundo newspaper reported. However, police said later the gunman was not linked to the terror attack.
Local media originally reported two men involved in the attack had been holed up in a bar, but that was dispelled by Catalan police.
Barcelona Mayor Ada Colau announced a minute of silence will be held Friday in the city's main square "to show that we are not scared." The moment of silence will be followed by three days of mourning.
"We are a strong city in its diversity and values. Barcelona is a city of peace, of dialogue, of democracy, valient, open to the world. The cowards that have tried to plant terror will not get away with it," Colau said.
"London, Brussels, Paris and some other European cities have had the same experience. It's been Barcelona's turn today," said Carles Puigdemont, the head of the regional government.
Prime Minister of Spain Mariano Rajoy tweeted that he is going to Barcelona.
BARCELONA TERROR ATTACK: LAWMAKERS AND NATIONAL FIGURES REACT
A grisly video of the incident appeared to show at least five people lying motionless on the ground, with legs twisted and heads bloodied.
"It was real chaos, people started running, screaming. There was a loud bang," eyewitness Ethan Spibey told Sky News.
Footage from reporters on the ground shows armed officers combing a market.
Albert Tort, a 47-year-old nurse who lives near Las Ramblas, told El Pais that what he saw at the scene was an "authentic disaster."
"Police would not let me go through but I identified myself as a nurse and I went in," he said. "What I saw was an authentic disaster. I counted at least 6 dead, I tried to revive a young [man] but it was impossible."
"I heard a lot of people screaming and then I saw the van going down the boulevard," another witness, Miguel Angel Rizo, said, "You can see all the bodies lying through Las Ramblas. It was brutal. A very tough image to see."
Barcelona resident Keith Fleming told the Associated Press he was watching television in his building on a side street just off Las Ramblas when he heard a noise and went out to the balcony to investigate.
Fleming said he saw "women and children just running and they looked terrified," he then heard a bang, possibly from someone rolling down a store shutter, as more people raced by.
The American living in the Spanish city said police arrived, and pushed everyone a full block down the street. He says the officers still are there with guns drawn and riot police stationed at the end of the block.
President Trump condemned the attack, saying in a tweet, "The United States condemns the terror attack in Barcelona, Spain, and will do whatever is necessary to help. Be tough & strong, we love you!"
Speaking from Panama, Vice President Pence called the day "tragic." He acknowledged that ISIS took credit for the attack, but said "whoever is responsible should know, together with our allies, we will punish those responsible" and rid "Islamic terror" from the world.
BARCELONA 'TERROR': TRUMP, STATE DEPARTMENT MONITORING SPAIN ATTACK
Emergency services in Catalonia say they have asked the Metro and train services in the area to close. Police cordoned off the broad street and shut down its stores, and asked people to stay away from the area so as not to get in the way of the emergency services.
Facebook has activated its Safety Check feature that lets users notify friends and family that they are safe following the Barcelona attack.
Barcelona's tourism association has offered rooms in area hotels to tourists who have been displaced by ther attack.
The U.S consulate in Barcelona said on Twitter it was "aware of a reported incident at Las Ramblas in Barcelona. Please avoid the area and monitor local police @mossos for updates."
"Americans in Spain: If you are safe, be sure to notify friends and loved ones. If you use social media, be sure to update your status," the consulate tweeted.
The National Counterterrorism Center, the government hub for threat analysis, confirmed to Fox News the center is monitoring the events in Barcelona and note the use of a vehicle as a weapon.
TRUMP CONDEMNS BARCELONA TERROR, SAYS US 'WILL DO WHATEVER IS NECESSARY TO HELP'
The Department of Homeland Security said Acting Secretary of Homeland Security Elaine Duke has been briefed on the situation. "DHS has reached out to Spanish authorities, and the Department is standing by to support our allies as they respond to and recover from this horrendous attack. Our thoughts and prayers are with the victims and those affected," the agency said in a statement.
On Twitter, the Department said those who need information on U.S. citizens in Spain, to call 888-407-4747 if in the U.S. or Canada.
Spain has been the target of numerous terror attacks in the last few years, drawing the attention of the U.S. State Department.
The attack was the country's deadlist since 2004, when Al Qaeda-inspired bombers killed 192 people in coorindated attacks on Madrid's commuter trains.
Since July 2016, vehicles have been used to ram into crowds in terror attacks across Europe, killing well over 100 people in Nice, Berlin, London, and Stockholm.
Las Ramblas is a packed tourist area in central Barcelona whose central feature is a broad promenade leading to the water. The stretch is lined with numerous shops, restaurants, a sprawling market and Gaudí architecture.
People walk down a wide, pedestrianized path in the center of the street, but cars can travel on either side of the area.
Fox News' Catherine Herridge, Lucia Suarez, Jake Gibson, Cody Derespina, James Rogers, Judson Berger, Michael Arroyo and The Associated Press contributed to this report.
Read more: http://www.foxnews.com/world/2017/08/17/injuries-reported-after-vehicle-hits-people-in-barcelona-plaza.html