February 5, 2018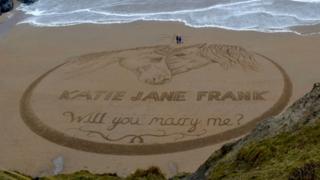 A man travelled 10,000 miles from Australia to propose to his girlfriend with a giant message in the sand on a Welsh beach.
Caleb Jellicoe, 21, from Tallong, New South Wales, scouted remote beaches across Wales for the perfect spot to ask Katie Frank, 20, to marry him.
He took her on a cliff top walk in Mwnt, Ceredigion, before pointing to the message below, which said "Katie Jane Frank. Will you marry me?"
Miss Frank said yes.
The couple travelled from their home in Australia to visit family in Wales in January, where Mr Jellicoe had secretly enlisted a sand artist to help him propose.
"We'd travelled 10,000 miles from New South Wales to visit my great-grandparents in Wales. They are amazing and have been married for 69 years," said Mr Jellicoe, a plumber.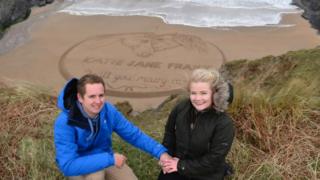 "I wanted my proposal to be something Katie would never forget and I don't think she ever will. She had no idea I was going to ask her to marry me.
"I drove Katie down to the beach and she had no idea. We walked along the cliff top and when we looked over at the beach there was my message looking up at us.
"She was in shock and was completely speechless. It was very wet and blowing a gale but it didn't spoil the moment. It was lovely."
Miss Frank, who works for the fire service, said: "I had absolutely no idea Caleb was going to propose. He just said we were going for a walk on a beach.
"I remember as we walked along the cliff I saw my name. At first it didn't register – I was just baffled to see my name until I read it all.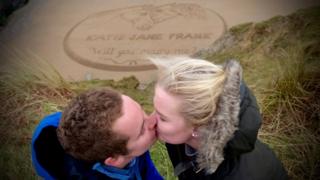 "Then I turned around and Caleb was down on his knee. I couldn't even speak I was so overwhelmed. It was so beautiful and completely blew me away.
"I wouldn't say Caleb is normally a romantic so it was a total surprise but I thought it was wonderful he made such a big effort."
Sand artist Marc Treanor uses string and a stick like a compass to create perfect circles and always sketches out his design before heading to the beach.
He said: "If I can draw it on paper I will be able to draw it on sand."
Read more: http://www.bbc.co.uk/news/uk-wales-mid-wales-42917106