April 3, 2018
Some Model S and X workers may switch to Model 3 line Friday

Reaching goal would be 'incredible victory,' executive says
Tesla Inc. exhorted its factory workers to prove wrong the "haters" betting against the company and is letting a small number of volunteers join the effort to ramp up output of the crucial Model 3 line.
In a pair of internal memos last week, the heads of engineering and production spelled out measures to free up workers for the Model 3 line and challenged them to reach production goals. Doug Field, the engineering chief, told staff that if they can exceed 300 Model 3s a day, it would be an "incredible victory" at a time when short-sellers and critics are increasingly doubting the company's ability to fulfill CEO Elon Musk's vision of building a mass-production electric-vehicle manufacturer.
"I find that personally insulting, and you should too," Field wrote in the March 23 email. "Let's make them regret ever betting against us. You will prove a bunch of haters wrong."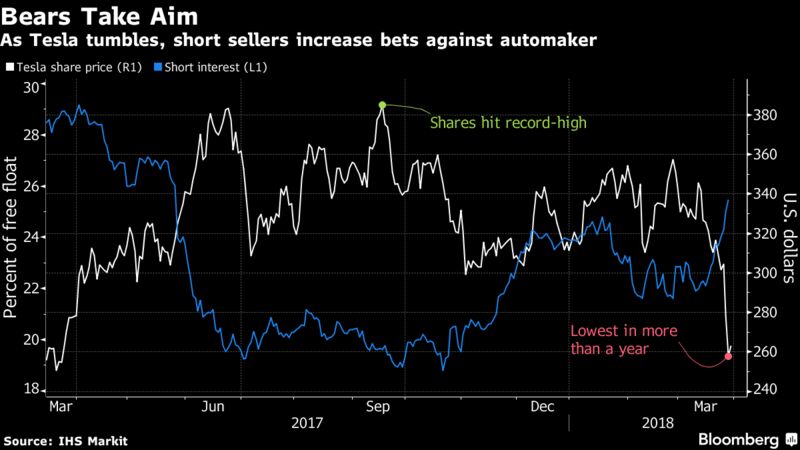 Tesla has been routed this month as analysts and investors have questioned the company's ability to mass-manufacture the sedan it spent billions of dollars on to quickly expand sales. Bottlenecks at Tesla's battery factory and assembly plant have undermined that effort, limiting the return on that investment and arousing concern that the company may need to raise more cash.
Shares fell 22 percent this month in New York, the biggest one-month drop since the year it went public. The stock rose 3.2 percent Thursday to close at $266.13. The stock then fell in after-market trading after the carmaker said it would voluntarily recall all Model S cars built before April 2016 to retrofit a power-steering component.
Tesla's bonds maturing in 2025 traded at 87.25 cents on the dollar, down more than 1 cent, according to Trace data compiled by Bloomberg.
Tesla will suspend Model S and Model X production Thursday and Friday because it's ahead of target on building those this quarter, Peter Hochholdinger, vice president of production, wrote to employees in a March 21 email obtained by Bloomberg News. An unspecified "limited number" of workers who build those vehicles will have the option to work on the Model 3 line on those two days and Saturday, he said.
A Tesla spokesperson said Thursday that the planned shutdown of the Model S and Model X production line is now occurring only on Friday, not both days, and said that the pause is unrelated to Model 3 production targets.
At the time of Field's email, Tesla was making more than 200 Model 3 sedans a day on every line, he wrote. Field urged workers to quickly break through the 300-cars-a-day barrier and keep going, while keeping quality standards high. Some Model 3 reviewers have criticized inconsistent body panel gaps and glitches with the 15-inch touch screen that controls many of the car's features.
"The world is watching us very closely, to understand one thing: How many Model 3's can Tesla build in a week?" Field wrote. "This is a critical moment in Tesla's history, and there are a number of reasons it's so important. You should pick the one that hits you in the gut and makes you want to win."
In addition to the Model 3 issues, Tesla has been working with regulators to investigate a fatal crash involving a Model X last week that prompted the company to defend the record of its driver-assistance system Autopilot. Moody's Investors Service also downgraded Tesla's credit rating further into junk on Tuesday.
During the temporary shutdown of Model S and Model X production, Hochholdinger said workers who don't move to the Model 3 line will have to take unpaid time off or can use paid vacation days. His email didn't specify what the company's Model S and Model X target was for the quarter.
Estimate Tesla Model 3 Production With Bloomberg's VIN-Tracker Tool
If Tesla reaches its weekly Model 3 production target, employees will have doubled the size of the company as measured by cars shipped, and output of that vehicle will exceed Model S and Model X combined, Field wrote. He said Model 3 will outsell the battery-electric Nissan Leaf, BMW i3, Audi E-Tron and Chevrolet Bolt and Volt combined.
"We set high goals at Tesla, but I know we can do this," Field wrote. "If we keep climbing from 300 through the end of the week, it will be an incredible victory. Your friends and family will hear about it in the news."
Read more: http://www.bloomberg.com/news/articles/2018-03-29/tesla-urges-workers-to-prove-haters-wrong-ramp-up-production