April 18, 2018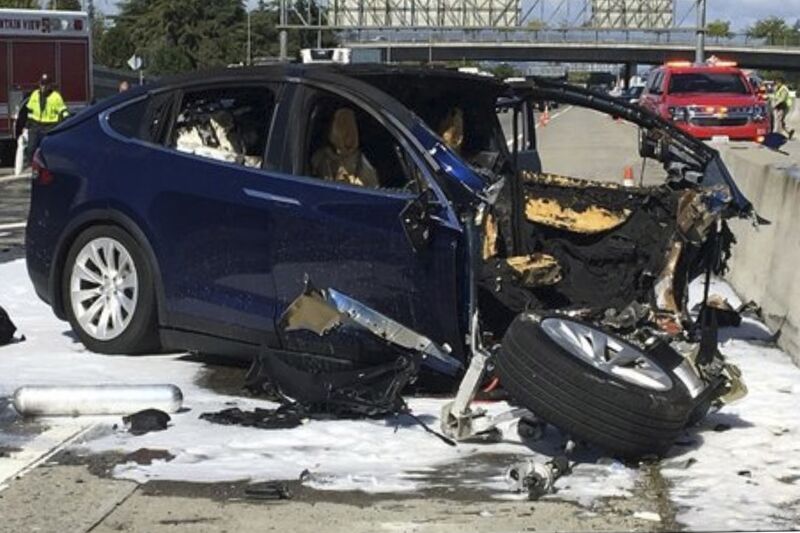 March 23: Walter Huang, a 38-year-old Apple Inc. engineer, dies after his Model X crashes into highway barrier in Mountain View, California. 
March 27: The NTSB sends two investigators to the crash scene and notes on Twitter: "Unclear if automated control system was active at time of crash."
March 27: Tesla releases its first blog post, "What We Know About Last Week's Accident," saying it hasn't been able to retrieve computer logs from Huang's vehicle and blames the damaged highway safety barrier for the severity of the crash. Tesla also claims the U.S. government found a year ago that Autopilot reduced crash rates by 40 percent, a characterization of data from a National Highway Traffic Safety Administration report that some safety experts call misleading. "Out of respect for the privacy of our customer and his family, we do not plan to share any additional details until we conclude the investigation," Tesla writes.
March 30: Tesla releases a second blog post late on Friday night that acknowledges its driver-assistance software, Autopilot, had been engaged at the time of the crash. "The driver had received several visual and one audible hands-on warning earlier in the drive and the driver's hands were not detected on the wheel for six seconds prior to the collision," Tesla writes.
April 1: An NTSB spokesman tells reporters that the agency is "unhappy with the release of investigative information by Tesla." The agency's protocols require companies who are a party to an agency accident investigation to not release details about the incident to the public without NTSB's approval. 
April 2: Tesla CEO Elon Musk discusses the investigation on Twitter: 
April 9: NTSB discloses agency Chairman Robert Sumwalt spoke to Musk over the preceding weekend. An agency spokesman said Sumwalt described the conversation as "very constructive." 
April 10: Tesla puts out a statement that faults Mr. Huang and denies moral or legal liability for the crash.
"According to the family, Mr. Huang was well aware that Autopilot was not perfect and, specifically, he told them it was not reliable in that exact location, yet he nonetheless engaged Autopilot at that location. The crash happened on a clear day with several hundred feet of visibility ahead, which means that the only way for this accident to have occurred is if Mr. Huang was not paying attention to the road, despite the car providing multiple warnings to do so."
April 11: Tesla says it has withdrawn from its party agreement with the NTSB: "We believe in transparency, so an agreement that prevents public release of information for over a year is unacceptable."
April 12: NTSB releases a statement saying it had removed Tesla as a party to its crash investigation. "The NTSB took this action because Tesla violated the party agreement by releasing investigative information before it was vetted and confirmed by the NTSB." The agency also releases a letter from its chairman to Musk. 
April 12: Tesla releases another statement, again claiming to have withdrawn from its agreement with the NTSB.
"It's been clear in our conversations with the NTSB that they're more concerned with press headlines than actually promoting safety. Among other things, they repeatedly released partial bits of incomplete information to the media in violation of their own rules, at the same time that they were trying to prevent us from telling all the facts. We don't believe this is right and we will be making an official complaint to Congress. We will also be issuing a Freedom Of Information Act request to understand the reasoning behind their focus on the safest cars in America while they ignore the cars that are the least safe.  Perhaps there is a sound rationale for this, but we cannot imagine what that could possibly be." 
Read more: https://www.bloomberg.com/news/articles/2018-04-12/a-timeline-of-the-tesla-autopilot-crash-investigation