December 3, 2017
A rising U.S. rig count and continuing uncertainty over OPEC's strategy to extend supply cuts pushed oil prices lower following a week in which they hit their highest close in more than two years.
Futures slid as much as 2.4 percent in New York after rising 1.6 percent Friday to the most since June 2015. OPEC and Russia, partners in the oil-cuts deal, have crafted the outline of an agreement to extend curbs to the end of next year, according to people involved in the discussions. But doubts remain over the size of the reductions after the current accord expires in March, as well as which exit strategy the group will adopt. Meanwhile, drillers targeting crude in the U.S. added nine rigs last week.
"What we're seeing is cold feet heading into the OPEC meeting," said Ashley Petersen, lead oil market analyst at Stratas Advisors in New York. "After exuberance over three weeks now, investors are getting nervous. That's going to be the dominant driver regardless of the weekly fundamental data."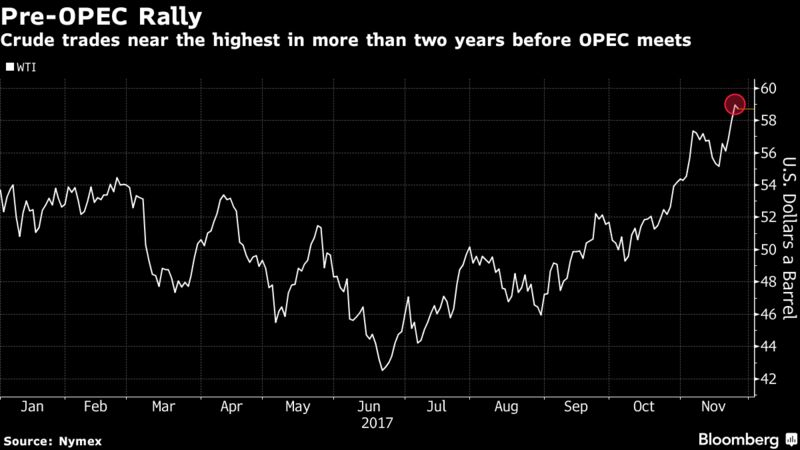 Oil has advanced about 23 percent since the start of September on speculation the Organization of Petroleum Exporting Countries and its allies will prolong output reductions to drain a global glut. OPEC and Russia are still hammering out crucial details for an extension, the people involved in the conversations said last week. Russia wants the deal to include new language that would link the size of the curbs to the health of the oil market, they said.
Click for a TOPLive Q&A with oil strategist Julian Lee at 9 a.m. New York time.
"The consensus is building that Russia may not want to have a situation where they're ready to restrict supply without any qualifications," Bart Melek, the global head of commodity strategy at TD Securities in Toronto, said by phone. "They don't want to move prices too high to incentivize unconventional producers to produce."
West Texas Intermediate for January delivery settled at $58.11 a barrel on the New York Mercantile Exchange, after falling to an intraday low of $57.55. News that Cushing, Okla., crude inventories fell by 2 million barrels last week helped spur the mid-day rebound.
"That's almost the primary reason that we're so close to $60 in WTI," Michael Lynch, president of Strategic Energy & Economic Research in Winchester, Massachusetts, said by telephone.
Still, trepidation about Thursday's gathering in Vienna will continue to keep crude lower, Lynch said. "There's fear that stronger prices will lead to changes in production quotas."
Read our OPEC Reality Check to see what's at stake for each producer
Brent for January delivery settled at $63.84 a barrel on the London-based ICE Futures Europe exchange, after rising 1.8 percent last week. The global benchmark crude traded at a premium of $5.73 to WTI.
Oil-market news:
Transcanada plans to resume service on its Keystone crude pipeline Nov. 28 at reduced rates, after shutting line Nov. 16 because of a leak in South Dakota.
Crude inventories in Cushing, Okla., fell 2 million barrels in the week ended Nov. 24, according to a forecast compiled by Bloomberg.
Iraq's hitting a couple of speed bumps as it gears up for 2018 oil sales, after making unprecedented moves to sell one-time cargoes this year in addition to supplies under long-term contracts.
OECD fuel inventories were 140 million barrels above the five-year average in October, down from record of more than 380 million, according to the text of a speech on Monday by OPEC Secretary General Mohammad Barkindo.
Read more: http://www.bloomberg.com/news/articles/2017-11-26/oil-trades-near-highest-in-more-than-two-years-before-opec-meets