January 26, 2018
Japan closed out its best year for exports since the financial crisis with solid growth again in December, as the global economic recovery looks set to continue well into 2018.
Highlights
The value of exports rose 9.3 percent in December from a year earlier (forecast +10 percent).
Exports for the full year 2017 grew 11.8 percent, the most since 2010, to the highest level since 2008.
Imports increased 14.9 percent in December (forecast +12.4 percent).
The December trade surplus was 359 billion yen ($3.3 billion) versus a forecast 535 billion yen.
Export volumes rose 4.5 percent in December, and 5.2 percent in 2017.
Key Takeaways
Japan's exports recovered throughout 2017 thanks to solid global demand and a weaker currency. Confidence among large and small manufacturers is on the rise, and large firms plan to increase their capital investment in the first quarter. But increasing domestic demand remains key to Japan's economic recovery becoming self-sustaining. Better retail sales and household spending data have offered signs for optimism, and continued growth in imports would offer another indication that demand is rising.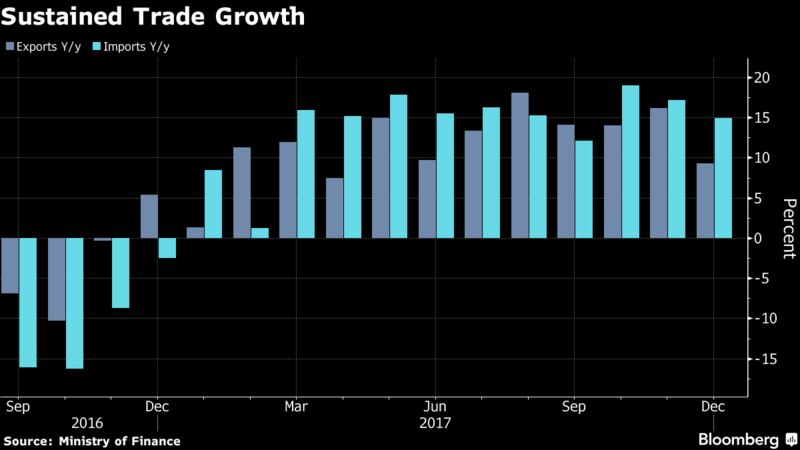 Economist Takeaways
"What's important is how much exports have risen on a volume basis, and we're not seeing any signs of a slowdown at the moment," said Hiroaki Muto, chief economist at Tokai Tokyo Research Center.
"The trade balance will keep shrinking as energy import costs rise, but we've seen this before, and it's nothing to be too worried about," Muto said.
"I expect exports will continue to be robust for at least the first half of this year and will remain a driver of Japan's recovery," said Masaki Kuwahara, senior economist at Nomura Securities Co., citing solid demand for semiconductors, cars and general machinery.
Other Details
Japan's adjusted trade balance showed surplus of 86.8 billion yen (forecast 276.7 billion yen).
Exports to China, Japan's largest trading partner, rose 15.8 percent in December from a year earlier to a monthly record.
Exports to China rose 20.5 percent in 2017, to a record 14.89 trillion yen.
Shipments to the U.S. increased 3 percent in December.
Shipments to the EU rose 11.4 percent in December.
Read more: https://www.bloomberg.com/news/articles/2018-01-24/japan-s-exports-grow-9-in-december-to-close-out-strong-year