February 26, 2018
It's another week after another mass shooting in the U.S., and something finally feels different. In the days following the Feb. 14 school shooting in Parkland, Florida, that killed 17 students and faculty members, a vociferous movement of young people has risen up to say enough is enough. The generation that grew up in the wake of the 1999 carnage in Columbine is demanding new gun restrictions. The teenagers are adding a fresh voice to a gun control debate that has plodded, despite a number of high-profile massacres in the past several months, from the record-setting Las Vegas incident that killed 58 to the shooting a few weeks later at a Baptist church in Sutherland Springs, Texas, that killed 26.
But as students plan protests and schedule a sit-down with President Donald Trump to discuss gun violence, it's important to remember what they're up against. Three-in-10 American adults own a gun, and three-quarters of them think that doing so is fundamental to their sense of freedom, according to a 2017 Pew poll. This engrained culture of gun rights was on display over the weekend, where it was business as usual at a Miami-area gun show. Merchants displayed hunting knives, tactical gear, and semiautomatic assault rifles, including the same AR-15 model used by 19-year-old Nikolas Cruz, just an hour north, at Marjory Stoneman Douglas High School, in neighboring Broward County. At the Miami weapons bazaar, parents pushed babies up and down aisles of carefully stacked magazines and ammo; older children played with toy firearms.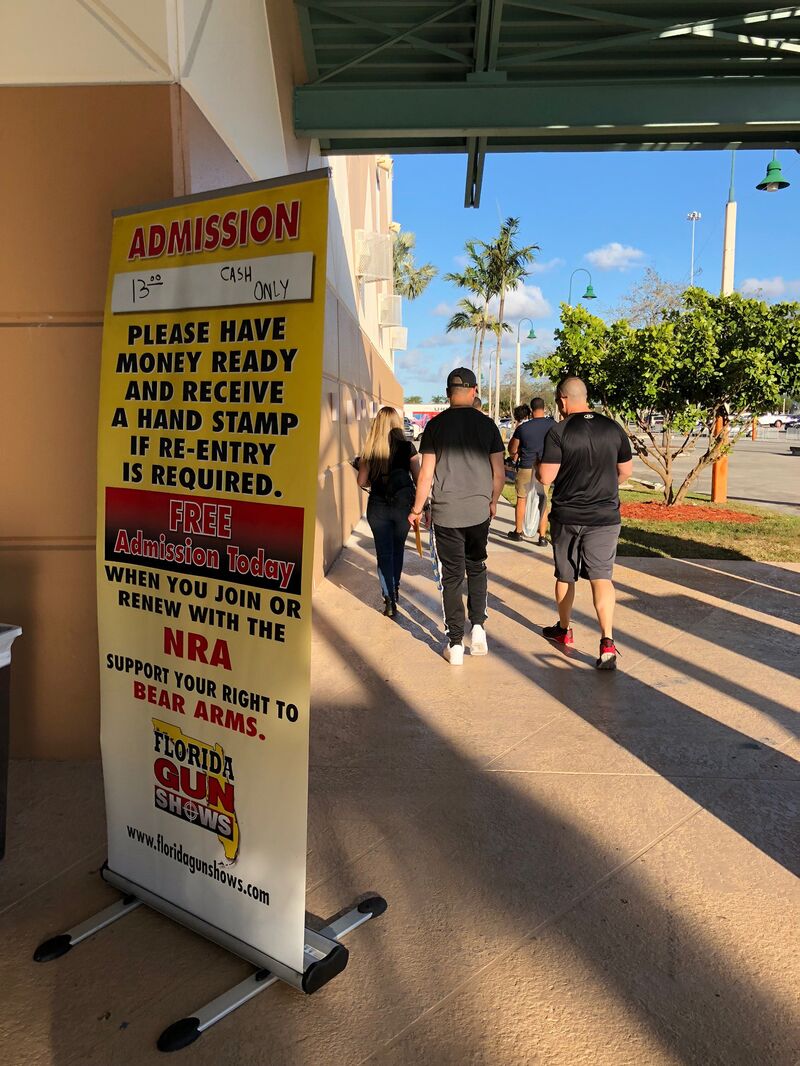 Gun shows are a staple in the American firearms community, with several thousand held annually. Gun control activists have called for closing the "gun show loophole," which allows some gun sellers to perform a transaction without running a background check on the buyer. According to data collected by Pew, the majority of gun owners, 77 percent, advocate ending the loophole, but a proposed bill to do just that found little traction in Congress when it was introduced last March.
Indeed, the state of gun control legislation appears to be divorced from public sentiment. According to the Pew poll, among gun owners, 89 percent support a proposal that would prevent the mentally ill from purchasing a gun, 82 percent support barring those on the no-fly list from buying guns, 54 percent support a federal gun sales database, and 48 percent support a ban on assault-style weapons such as AR-15s. These measures, though, often dissipate in the legislation process. Congress, which promised a bipartisan bump stock ban after the device was used in the Las Vegas shooting, failed to deliver. On Tuesday, Trump signaled a willingness to consider a bump stock ban, directing his attorney general, Jeff Sessions, to draft rules prohibiting the accessories.
In a sign of how hard it will be to change the state's gun laws, on Feb. 20, Florida legislators voted against an assault rifles ban as students from Parkland watched in the gallery. A similar proposal failed to gain traction in the wake of the 2016 Pulse nightclub shooting that left 49 dead. The state is home to some of the nation's most lax gun laws and a governor with an A+ rating from the National Rifle Association. Marion Hammer, head of the Florida gun lobby, was involved in the state's notorious Stand Your Ground law and supported the state's concealed carry initiative. In a state where concealed carry is popular, the license allows those shopping at a gun show to avoid the three- to five-day waiting period.
At the weekend gun show in Miami, few people wanted to talk on the record, stating they'd been misrepresented in the past in the media. Many simply sighed when asked about the AR-15 first made infamous in the Sandy Hook shooting in 2012. The price tag on one read $449. Asked what it would take to buy one on the spot, a salesman replied, "If you have a Florida driver's license and a concealed weapons permit, you can walk out with one today." Short of that, you need to go through a background check and the mandatory waiting period.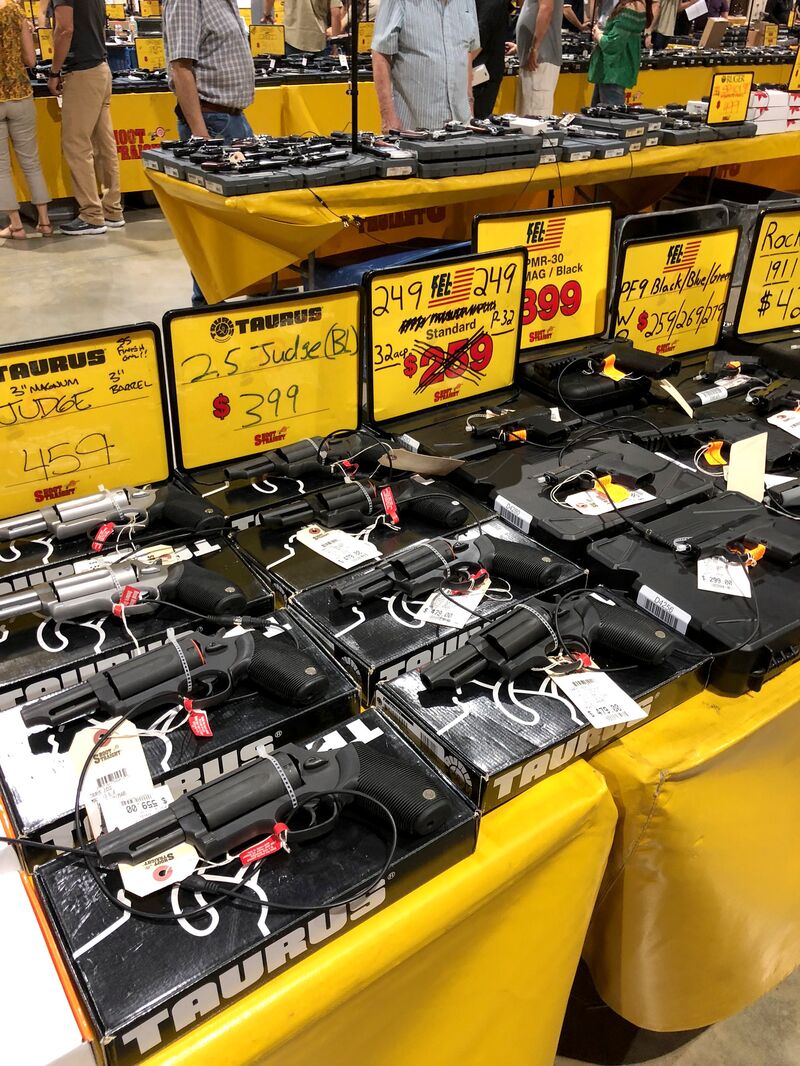 Many of the talking points seemed similar. Multiple sellers mentioned that a 19-year-old who wanted to inflict mass casualties could just as easily buy a Ferrari and mow people down by speeding on a busy street. A common refrain was that gun owners are good people in favor of smart regulation but that an outright ban would never work, as there were already millions of guns in public hands.
Robert Geisler, a 34-year-old from Orlando, was working behind the busy, large booth for gun retailer Shoot Straight Florida. Business sometimes picks up after a mass shooting, he said, though this show is always busy. "We're on pace to do the exact same amount of sales as we did about a month ago when we were here," he said. The conversation soon turned to the AR-15 and all the misconceptions that Geisler said surround the weapon. "There's a lot of guns that are like that, that have been out for a long time that shoot just as far and shoot just as fast. It's gotten a bad name since that Sandy Hook thing," Geisler said, referring to the 2012 killing of 20 elementary school students and six staff members. "The gun has been around since the Vietnam era, it's just in the last 25 or 30 years where these kids have been using them in the school shootings."
"We are a free society," Robert's uncle, Scott Geisler, 56, said as he walked over and talked at length about all the reasons why someone might want to purchase an AR-15 for self-defense instead of a simple handgun. "People want some choices," he said. "They like that look. They grew up with it. They see it, they see it on TV, and they like to own it. It's a sexy rifle."
The conversation shifted to a changing society and video games. "Society has changed," the elder Geisler continued. "The kids have changed. We didn't grow up playing with all these Game Boys or these PlayStations with shoot'em-up programs and going to schools and shooting up schools, shooting up whatever. We didn't grow up with that. Now these kids think it's fun and it's a toy, and it's not." As Geisler spoke, a child played with a toy gun nearby as his mother looked at handguns.
Meanwhile, in the hours after Trump announced the possibility of a ban on bump stocks, prices for the accessories went wild on the resale market. On Gun Broker, a firearms auction website, Slide Fire-branded bump stocks were selling for between $245 and $1,200. The devices usually retail for between $99 and $199.
Read more: https://www.bloomberg.com/news/articles/2018-02-21/days-after-parkland-it-s-business-as-usual-at-a-florida-gun-show