September 11, 2017
Atlanta-based company says criminals accessed personal data, as details emerge that Equifax executives sold $1.8m in shares before telling the public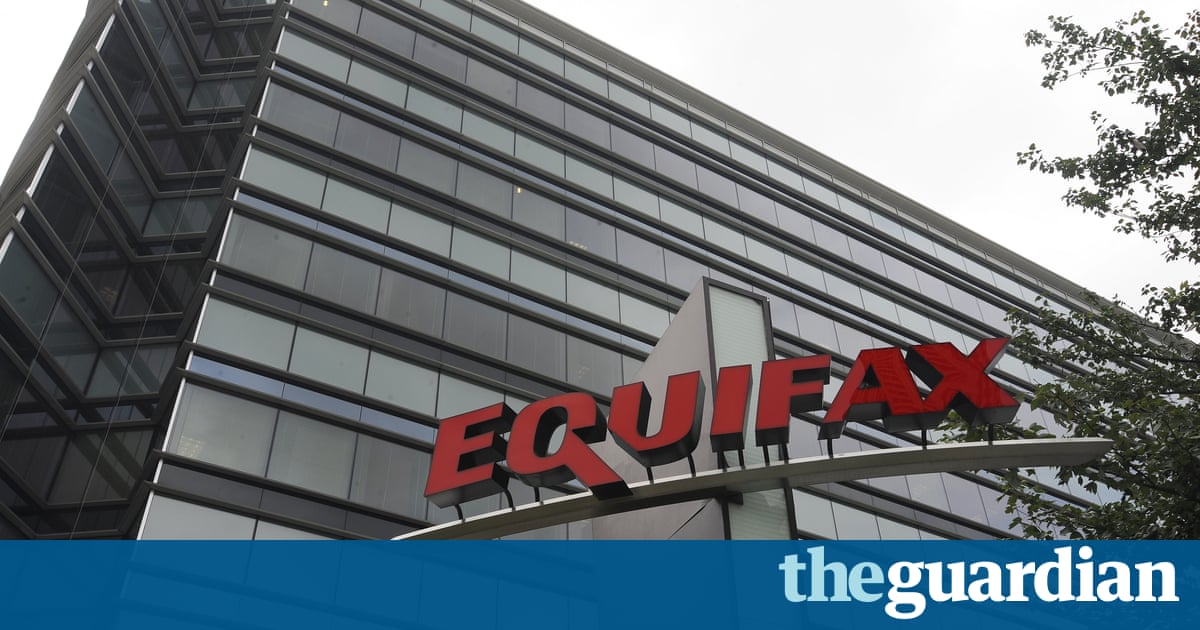 Credit monitoring company Equifax says a breach exposed the social security numbers and other data of about 143 million Americans.
After discovering the breach, but before notifying the public, three Equifax senior executives sold shares in the company worth almost $1.8m. Since the public announcement, the companys share price has tumbled.
The Atlanta-based company said Thursday that criminals exploited a US website application to access files between mid-May and July of this year.
It said consumers names, social security numbers, birth dates, addresses and, in some cases, drivers license numbers were exposed. Credit card numbers for about 209,000 US consumers were also accessed.
This is clearly a disappointing event for our company, and one that strikes at the heart of who we are and what we do, said the companys chairman and CEO Richard Smith. We pride ourselves on being a leader in managing and protecting data, and we are conducting a thorough review of our overall security operations.
The company said hackers also accessed some limited personal information from British and Canadian residents.
Equifax said it doesnt believe that any consumers from other countries were affected.
Such sensitive information can be enough for crooks to hijack peoples identities, potentially wreaking havoc on the victims lives.
Financial institutions, landlords and other businesses draw on data from credit monitoring companies like Equifax to verify peoples identity and ensure they are suitable for leases and loans. This breach has given cybercriminals a treasure trove of data to assume the identities of those affected and carry out fraudulent transactions in their name.
On a scale of one to 10, this is a 10 in terms of potential identity theft, said Gartner security analyst Avivah Litan. Credit bureaus keep so much data about us that affects almost everything we do.
Ryan Kalember, from cybersecurity company Proofpoint said: This has really called into question the entire model of how we authenticate ourselves to financial institutions. The fact that we still use things like mothers maiden name, social security number and date of birth is ridiculous.
The breach could also undermine the integrity of the information stockpiled by two other major credit bureaus, Experian and TransUnion, since they hold virtually all the data that Equifax does, Litan said.
Equifax discovered the hack 29 July, but waited until Thursday to warn consumers. In the interim, as first reported by Bloomberg, chief financial officer John Gamble sold shares worth $946,374 and president of US information solutions Joseph Loughran exercised options to sell stock worth $584,099. President of workforce solutions Rodolfo Ploder also sold stock worth $250,458.
Ines Gutzmer, head of corporate communications for Equifax, said: The three executives who sold a small percentage of their Equifax shares on Tuesday, August 1, and Wednesday, August 2, had no knowledge that an intrusion had occurred at the time they sold their shares.
After the cybersecurity breach was made public, Equifax stock dropped more than 13% in after-hours trading following the announcement at 4.30pm ET.
The Atlanta-based company has set up a special website, where people can check to see if their personal information may have been stolen. Consumers can also call 866-447-7559 for more information.
As is customary when a business has a data breach, Equifax is offering customers free credit monitoring using its own breached service, a response that Kalember calls utterly farcical.
Every single one of us can assume that all our information is the hands of cybercriminals, said Kalember, who recommended that people put a security freeze on their credit report. Its a really onerous process to correct errors in your credit.
Senator Mark Warner, vice-chairman of the senate intelligence committee, described the breach as profoundly troubling and called for Congress to rethink data protection policies so that companies like Equifax have fewer incentives to collect large, centralised sets of highly sensitive data.
It is no exaggeration to suggest that a breach such as this represents a real threat to the economic security of Americans, he said.
Its not the first time Equifax has been targeted by hackers. In 2013 the credit reporting agency (along with Experian and TransUnion) confirmed fraudulent and unauthorised access to the financial files of four high-profile individuals.
Equifax wouldnt name the individuals affected, but the confirmation of the cyber-attack came a day after hackers posted what they claimed to be the social security numbers, credit reports, former addresses and personal banking information of celebrities and politicians, including Paris Hilton, Michelle Obama, former FBI director Robert Mueller and former US attorney general Eric Holder.
The most common response when a corporate database gets hacked is for the business to offer a year of free credit monitoring a better-than-nothing measure that will alert people to suspicious activity involving their credit files but will do nothing to prevent fraud, identity theft or other mischief.
This isnt the biggest data breach in history. Yahoo was targeted in at least two separate digital burglaries that affected more than 1bn of its users accounts throughout the world.
But no social security numbers or drivers licenses were taken in the Yahoo break-in. Equifaxs security lapse could be the largest involving the theft of social security numbers, one of the most common methods used to confirm a persons identity in the US. It eclipses a 2015 hack at the health insurer Anthem Inc that involved the social security numbers of about 80 million people .
Associated Press contributed reporting
Read more: https://www.theguardian.com/us-news/2017/sep/07/equifax-credit-breach-hack-social-security