August 25, 2017
Spanish police killed five suspected terrorists after a confrontation in a town south of Barcelona, just hours after a van rampaged down the city's iconic Las Ramblas avenue and left 13 people dead.
Six civilians and a police officer were injured in the second incident in the nearby resort town of Cambrils, which the government said was connected to the Barcelona attack. The terrorist suspects wore phony explosive belts and ran over pedestrians in an Audi automobile until they were shot by police, Catalan Interior Counselor Joaquim Forn said in a radio interview. One of the six later died from critical injuries.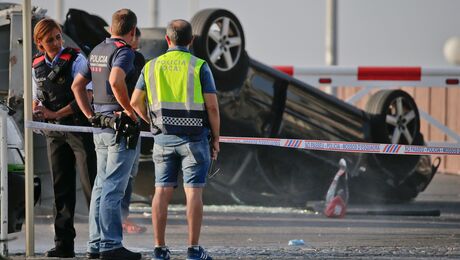 In Barcelona, the rented van drove about 600 meters (2,000 feet) down the heavily trafficked avenue striking pedestrians, local media reported. The driver is still at large. The injured and dead are of 34 nationalities, emergency services reported.
Spanish authorities are hunting across the Catalonia region for perpetrators of Thursday's attack in the heart of Barcelona, which bore the hallmarks of recent atrocities in Berlin, Nice, London and Stockholm. In addition to fatalities, at least 100 people were injured, 15 of them critically, when the white van drove into pedestrians at speeds reaching about 50 miles per hour.
Islamic State said it was responsible, according to the SITE Intelligence Group. A Spaniard and a Moroccan were arrested Thursday in connection with the Barcelona attack, and a third suspect was detained Friday about 60 miles further north, in Ripoll.
The attacks raise questions again about how authorities can protect citizens from crude assaults that can be planned under their radar. Britain responded to similar incidents in London this year by erecting concrete and metal barriers to shield pedestrians at key sites of the city. Spain has long been used to bombing campaigns by Basque and Islamist terrorists, but the rampage was the first of its kind on Spanish soil.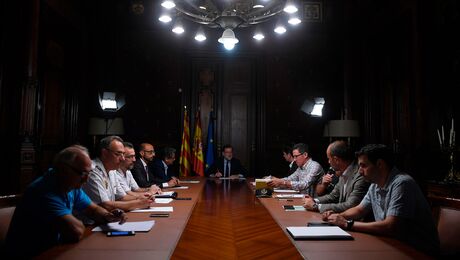 The nation has been a target of Islamist terrorism before. About 200 people were killed by bombs on early morning commuter trains in Madrid in 2004. Though like in most capitals until recently, tourist thoroughfares typically don't have the barriers used to protect institutions like courthouses.
United Front
The task is potentially further complicated in Spain by its devolved administrations. Power over home affairs and police lie with some regional governments, including Catalonia. While attacks in other cities have fueled anti-immigrant nationalist parties, Spain has no such mainstream group. Any political fallout is more likely to focus on the rifts between the administrations in Madrid and Barcelona. 
Prime Minister Mariano Rajoy traveled to Barcelona with his deputy and interior minister. Catalan National Assembly, a separatist group, meanwhile halted planned campaigning ahead of an independence referendum planned for October. Rajoy has called the vote illegal.
"I want to express the solidarity of Spain with the city of Barcelona, which today has been hit by the jihadist terrorism as before were hit other cities around the world," Rajoy said in a televised address from the city.
Marc Trevidic, a former French anti-terrorist magistrate, said the scope of the Barcelona assaults was remarkable.
"This is much more organized than what we've seen recently, with a structured group," Trevidic said in an interview on Europe1 radio. "There have been networks in Spain for decades linked to radical Moroccan movements. There have always been organized groups in Spain, but they haven't always had an interest in hitting Spain."
The nation is the world's biggest tourist destination after France and the U.S. and the Catalan city of Barcelona is among its star attractions. Spain received more than 75 million foreign visitors last year and tourism accounts for about 13 percent of all of jobs.
"London, Brussels, Paris, and other European cities have suffered this experience," Catalonia's regional president, Carles Puigdemont, told reporters Thursday. "And today it has happened to Barcelona."
Read more: http://www.bloomberg.com/news/articles/2017-08-18/four-presumed-barcelona-terrorists-shot-dead-one-injured